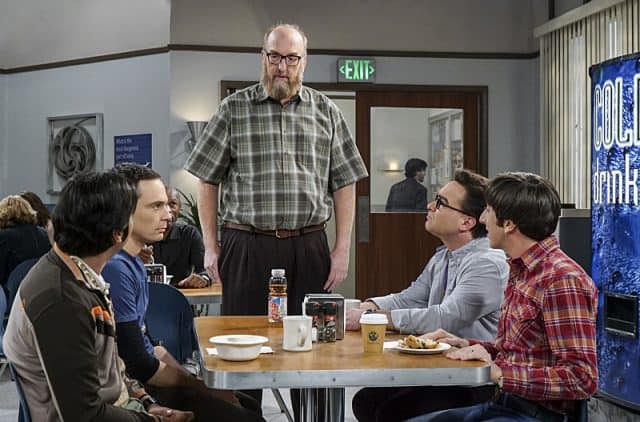 I'm not sure I'll ever understand why I find The Big Bang Theory so funny. I've enjoyed the show's last few seasons primarily because of the growth exhibited by the characters (Sheldon in particular). This episode was the exact opposite of that in every way. Sheldon was petty and childish like he always used to be. And yet, I found it hilarious as ever.
This week on The Big Bang Theory: Howard discovers his old remote-control Stephen Hawking that he invented…much to the chagrin of his friends and colleagues. Bert wins a major grant instead of Sheldon, causing him to go into a fit of jealous rage.
Apparently, there wasn't much too this episode, but it was rich enough in story to elicit laugh after laugh from me. Sure, I've laughed harder at episodes, but for being so simple (and regressing Sheldon so much) this was particularly good. Mostly, though, my favorite part was the remote-controlled Stephen Hawking. Everyone thought it was in poor taste except for me, Howard, and Kripke. Oh, and Stephen Hawking. I thought everything about that was hysterical. I willingly admit that I don't see a point to it, but it still made me tear up from laughing.
The biggest problem I have with the episode is the lack of growth for Sheldon (or anyone). This felt like it could've easily been an episode from 4 years ago. Sheldon was petty and childish at almost every turn. Sure, he's great fodder for sarcastic comments, and he's meant to be made a mockery of, but I think that Big Bang is at its best when their characters exhibit growth, which is the exact opposite of what happened. I mean don't get me wrong because I found most of it very funny, but in the grand scheme of the show it didn't work well. Really, the only saving grace was that Sheldon read and acknowledged that Bert's work was good.
A few thoughts/quotes/funny moments:
It's so hard to listen to Barry Kripke talk, now that I'm used to John Ross Bowie on Speechless.
"I know how to behave" "DO you?"
"I just want you to be quiet but I'm all out of taffy"
"You laughed when that guy got hit in the nuts!" "I laughed cause that guy was Leonard"
"Just picture the three stooges, and then take away two stooges"
I love Kaley Cuoco, but I'm with everyone else on the short hair.
I'm not sure how differently I'd feel about this episode if there wasn't a remote control Stephen Hawking to make me forget about Sheldon being childish. But the biggest thing about comedies for me is that they make me laugh, and in that area, this episode was a success.
What did you guys think? Did you enjoy the episode? Let us know in the comments!
The Big Bang Theory airs Thursdays at 8/7c on CBS
The Big Bang Theory Season 10 Episode 9 Review: "The Geology Elevation"
Summary
Sheldon deals with jealousy because Bert won a major grant instead of him on this week's mixed episode of The Big Bang Theory