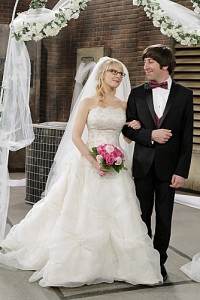 Season finales these days usually have to have an event of some kind in them. Whether it's a death, a birth, or some other life-altering moment television has gotten into the habit of using these events for premieres, sweeps week stunts, and season finales. Fortunately, no one died on this season finale as Howard and Bernadette instead finally made their trip down the aisle, or rooftop in this instance, tying the knot and becoming the first in the BBT gang to make that leap.
Despite the fact that things went off without too major of an issue, there was still the very slightest sense of the unknown involved in whether or not Howard would stay on the rocket he's been preparing to inhabit most of the season. Having the rocket launch and Howard getting married in the same episode was a nice way to wrap up one of the outstanding story threads of this season. The nature of their nuptials was a sweet and intimate affair that saw the duo saying '˜I do'on the rooftop of Sheldon, Leonard, and Penny's apartment building in full view of the Google Earth satellite when they couldn't get through the line at city hall in time for a last-minute marriage before Howard's recently rescheduled launch. All of their friends together officiated the ceremony after they passed the online course and that stood out as a memorable moment for this TV wedding.
By keeping the other couples (and Raj) involved in the ceremony itself it gave all the characters moments that were outside of the wedding story, but that reflected on where they were at in their own lives. There's still plenty of tension in the air with Penny and Leonard following last week's botched proposal attempt to her while they were in bed together. I understand getting swept up in the moment of being around your best friend when they're about to make such a life-changing step, but it makes the normally fairly sensible Leonard come off looking like How I Met Your Mother's Ted Mosby in his quick claim to affection and commitment even when he and Penny have barely been back together this season. She's clearly not ready for that sort of thing anyway and he needs to just drop it. But I've never bought them as a couple that could make it that far, unless it was in a very sitcom-y way of constant eye-rolling and that trusty trope of the '˜hot wife'and the '˜average/dorky'guy. With how childish they were acting toward one another during Bernadette and Howard's big day it wouldn't be a surprise if they were headed to that kind of conclusion someday if the show continues to insist on them being together.
As for Sheldon and Amy, their continued dance of will-they, won't- they, what-are-they-really continued as throughout the wedding itself Sheldon continued to be Sheldon all the way especially when he attempted to perform his part of the ceremony in Klingon. He definitely had the best speech of the ensemble as it was well-stated, the tone of it was so very '˜him', and most of all it was expected to tilt on the side of self-centered–it's Sheldon Cooper and we expect him to take such a moment to talk about how awesome he is instead of really paying proper tribute to the couple. When Penny and Leonard did it, it just came off as more uncomfortable than funny.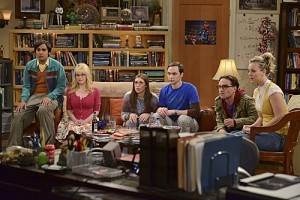 But where the show seemed to really lay it on the line for the remaining couples was during the gathering to watch Howard's televised launch. Everyone tightly grasped the hand of the person sitting next to them as Bernadette held Raj's hand for mutual support, Penny and Leonard got caught up in the emotion of the moment much like Leonard did during the lead-up to the wedding, and Sheldon without provocation gripped Amy's hand as they watched Howard blast off into the stars. He could easily argue later on that he was just adhering to the social convention of the moment, but I want to hope that the show was saying something significant about where they're going to let Sheldon go next season in terms of his character development. He's already come so very far in these past five seasons from the person we met in the pilot. If they can make such emotional and personal growth work for someone like reformed pervy wannabe ladies man Howard Wolowitz then there may be a chance that Amy Farrah Fowler can wear that tiara she favors so much down the aisle herself one day. In the distant future though, let's be real it's going to take some time.
This season has meant some big changes for some of our favorite characters and it's going to be interesting to see where they're at when the show returns this fall. There are some lingering practical questions for Howard and Bernadette such as where they will wind up living, for example, that have been left to be answered in season six. Plus, now that one couple has wed it might also be in the cards for another pairing to get a little more serious by then, but only time will tell what The Big Bang Theory has in store for its future.
Tell us what's wrong with this post? How could we improve it? :)
Let us improve this post!