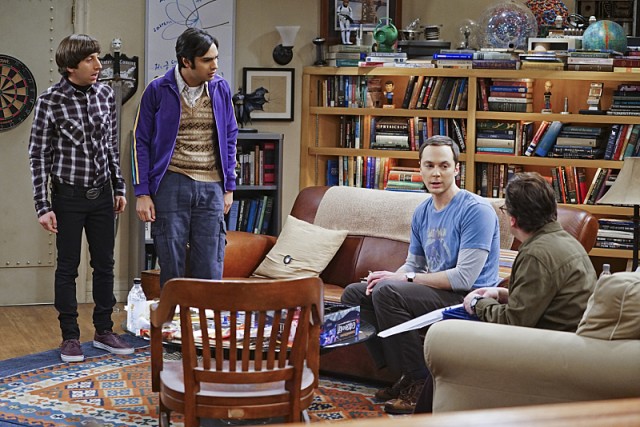 The Big Bang Theory will occasionally do episodes that get everything right. They nail the emotional beats, the proper character moments, and often those episodes are still quite funny. This was one of those episodes. You'll know if you read my reviews that I was worried that they'd falter after the excellent build up and climax (no pun intended) to the Sheldon/Amy relationship. Well I'm happy to report that the back half of the season still has it, and they're still really good at it.
This week, on The Big Bang Theory: Bernadette drops a bombshell on Howard…she's pregnant! Howard is excited, but nervous, to be a father. The guys try to help Howard deal with his anxiety, and the girls try to help Bernadette deal with hers. The gang does karaoke at a bar.
I'm very impressed with this week's episode. I've enjoyed the show post "Shamy" reunion, but it did feel like it lost a bit of the emotional wallop it packed. Though, with the gang getting older and maturing, bringing a baby into the fold seemed like the next logical step. As an impending father myself, I can, in fact, confirm that Howard's reaction to everything was realistic, genuine, and full of emotion. Worrying that you can't take care of a child is a logical point to reach. I was so impressed with the delicate nature that Big Bang handled it using. Just wonderful. Special shout out to Simon Helberg, for a particularly strong performance. It was vulnerable and realistic, and I was very impressed.
Not only was the emotion radiating from Howard and Bernadette, but I was also impressed with the rest of the cast and how they rallied around them. In a show like this, writers can rely heavily on snark and insults as shows deepen. Instead, the Big Bang team created a real, honest group of friends that rose to the occasion in support of their scared friends. I expected them to fall into the snark the whole episode and when they never did, I was extremely impressed.
Aside from everything there, this episode was hilarious. You know when Sheldon gets drunk it's going to be a good time, and boy was it ever. I mean, it was funny, but then karaoke came along and it was REALLY funny. Everyone's comedic chops came out to play, and I really appreciated all of the baby themed songs.
As always, here are some of my favorite quotes/moments from the episode:
"What could it be? We are Groot? We are the Champions?"- Bernadette
"And that's even before we screw it up with our cut-rate moderately attractive nanny"- Howard, in full on freak out mode
"You be sure to let us know when you win the Nobel prize for boysenberry"- Sheldon
"I shouldn't be raising a kid. I don't even eat my own vegetables!"- Howard…I feel your pain.
"You could ask Bernadette for a raise in your allowance"- Raj
Second favorite karaoke moment: Leonard and Raj doing "Bust A Move"
Favorite karaoke moment: "Let Freedom Ring"
They really did an all around excellent job with this episode. I laughed, I felt things. It moved me. Season 9 has been such a great stretch for Big Bang. Here's hoping they keep it going!
What did you guys think? Did you enjoy the episode? Let us know in the comments!!
The Big Bang Theory airs Thursday at 8/7c on CBS
The Big Bang Theory Season 9 Episode 16 Review: "The Positive Negative Reaction"
Summary
Bernadette drops a bombshell on Howard in an excellent episode of The Big Bang Theory