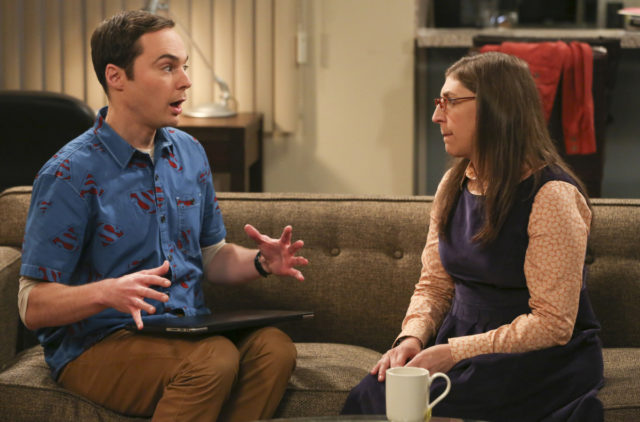 Fans of The Big Bang Theory have been waiting all summer to find out whether Amy accepted Sheldon's proposal. Fortunately, they didn't have to wait long into the Season 11 premiere episode to hear Amy's answer…though it happened in a roundabout, Sheldon Cooper sort of way. I'm not sure how to feel about this show sometimes, but I guess you could say that it went exactly like you'd expect, and in the trying times of the world, The Big Bang Theory was comforting and true to itself.
Alright, SPOILER ALERT for those of you not wanting to know if Amy accepted Sheldon's proposal. She did. It happened in the most Sheldon way I can think of: He realized he loved her in a sweet, normal way and then answered Leonard's phone call mid-proposal. Because he "didn't want to be rude". The rude/not rude paradox is a perfect description of Dr. Cooper, and fans love him just the way he is. Predictably, after their engagement, Amy and Sheldon got into another fight, but Sheldon proved how much he has grown over the years and figured out how he was wrong. This show is at its best when it shows character growth in real life situations, and fighting with your spouse to be is definitely a real world problem.
Of course, the really compelling story from this episode was NOT the Sheldon engagement story, but rather the story of Howard and Bernadette's second pregnancy. This was the second bombshell dropped on fans in the first half hour back for the 2017-18 TV season. Being a parent of one (and hopefully not two anytime soon) their situation felt much more real to me. They managed to portray the hurt, the excitement, and the conflict between happiness and sadness that discovering a pregnancy brings. Of course, having just made it through with Halley, I can imagine that it feels much worse. The stakes are extremely high anytime there are children involved, and that really resonated. Simon Helberg and Melissa Rauch gave a very funny, real, nuanced performance in a short time frame.
Raj and Stuart did absolutely nothing for me this episode. Raj, who (lest we forget) couldn't even speak to women at the beginning of this show, makes a chauvinistic-at-best pass at Dr. Nowitzki, who pushed Sheldon into his engagement with her advances. Sure, going from mute to arrogant is progress, but not great progress. Every character gets their chance to be awful on this show and Raj got one in this episode. Great performance, terrible writing. It was pretty funny that Stuart had a date and Raj didn't, though.
In summary, I have mixed feelings about the return of The Big Bang Theory. It IS at its best when it shows real growth in its characters and they endure true-to-life circumstances, which occurred at several instances during this episode. But, at the same time, it illustrates the issue with long-running series such as these: When will they eventually run out of story to tell? I would've liked to see the show go out on top in that respect, but that ship has most certainly sailed.
Still, Big Bang still exhibits signs that it still has what it takes to be a top comedy. It's funny and it doesn't shy away from being real. That will keep people watching for ages.
What did you guys think? Did you enjoy the premiere? Let us know!
The Big Bang Theory Season 11 Episode 1 Review: "The Proposal Proposal"
Summary
Amy answers Sheldon's proposal and new surprises await the gang on the Season 11 premiere of The Big Bang Theory.