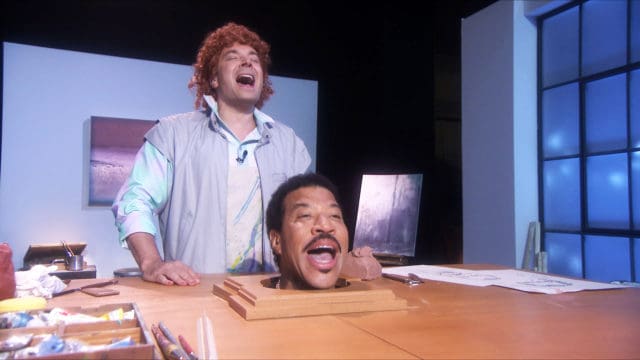 You know you've heard this song a time or two, or three, or four in the past. It's been played so often that the opening notes are familiar to pretty much anyone whether you're a Lionel Ritchie fan or not. To be honest it's a pretty good song but sometimes it's one that people have to be in the mood to sing. It's definitely best for a romantic or slow scene in a movie and even a scene in which one character pines for another. Lionel Ritchie was well known to have one of the best voices in the industry and he put it to good use in movies and TV.
Here are just a few examples of how his song Hello enhanced a few films.
5. Trolls
Trolls has become an on again off again kind of sensation, but in this scene the scullery maid, a Bergen named Bridget, is charged with keeping the captive trolls where they are until the Trollstice, when the Bergens will consume the trolls. The captives make a deal with Bridget to be set free if they can get the attention of the Bergen leader, whom Bridget is pining for.
4. Shrek Forever After
It seems ridiculous doesn't it? Yet somehow, thanks to magic and movie magic and the disregard for all laws of biology and physics, Donkey and Dragon do in fact have a family. Of course in the final installment of Shrek he has to woo her again, and hope he doesn't get eaten this time. Nothing says love like a fire-breathing dragon and a stumpy little donkey, right?
3. Scary Movie 4
Disturbing to say the least, funny to say the absolute most. Spoof movies are notorious for a few things, 1) spoofing other movies, obviously, 2) bringing up the most controversial topics of said movies, and 3) overplaying a joke so much that you can't help but cringe as you continue watching because you don't want to miss anything and have to rewind it.
2. Herbie Fully Loaded
So are you really surprised than an intelligent and self-aware car would have feelings that are a little on the amorous side? Herbie knows what he likes and it's of the VW persuasion. Things get a little steamy, literally, as the love bug bites Herbie and he expresses his desire and his passion as he sidles up close to a cute little newer model VW. Herbie, you're the man, car, you know.
1. 40-Year Old Virgin
Forty years spent without sex, yikes. Well to be fair, at least fifteen to twenty of those years should have been without sex. But after that man it's time to get busy. It's kind of hard to tell a guy what he's missing though if he's never done it. That's like telling a guy that chocolate bar is soooo good, but he's never had one in his life. Well one thing is guaranteed, once a person has sex the chances are good that they'll want it again. You've eaten more than one chocolate bar in your life, right?
Lionel Ritchie certainly knows how to croon a romantic tune.
Save