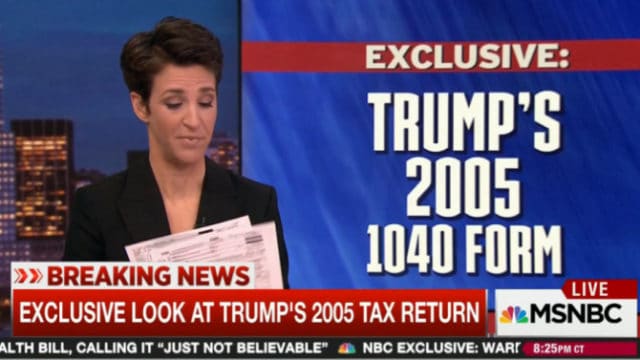 Last night the internet was ablaze after reading a tweet by Rachel Maddow announcing that she would be revealing a Trump Tax return. At 9pm EST, viewers tuned in to her CNBC show only to find that just a couple of pages of his 2005 tax return were in fact revealed. It was somewhat disappointing because it took nearly 30 minutes for Maddow to lead up to it and the conclusion from the segment is that the President is still hiding a ton and we have a lot more uncovering work to do.
The two-page document, which Maddow introduced with significant speculation about what the president's full tax returns might contain, doesn't answer all the questions Trump's more recent full returns might reveal, such as where the president's debts are owed or all the sources of his income. Nor does it include all of Trump's itemized deductions, which would include things like his charitable donations.
In 2005, Trump paid a cumulative $38 million in taxes on $150 million in income, an effective tax rate of about 25 percent. Most of that came from the alternative minimum tax, which applies to wealthy households that have taken a lot of tax deductions. (via Vox)

While we still continue to seek answers I would like to bring up one highlight of the show that has nothing to do with anything except making us all laugh. The man who actually posted the returns online and whose website crashed also stopped by the show to talk to Maddow. David K. Johnson, founder of DCreport.org, was there to answer some questions but the highlight of the night came when we laughed.
I didn't realize that a real life Sheldon Cooper laugh existed but this is pretty close.
Flipped cause everyone talkin about. Ya'll wild. pic.twitter.com/sJ6R8Zfr18

— Chris Vernon (@ChrisVernonShow) March 15, 2017