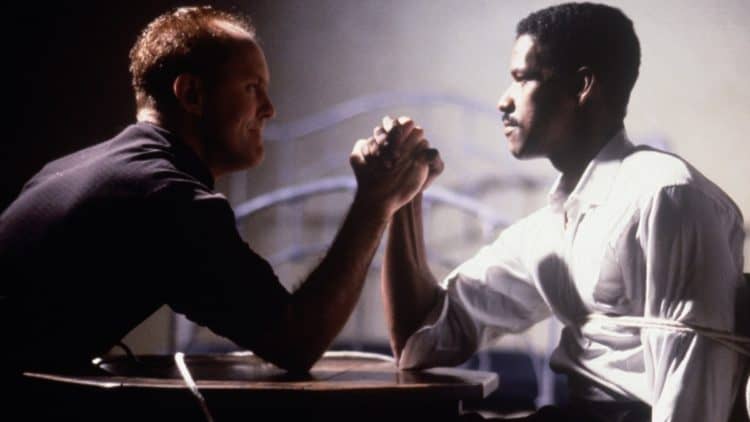 John Lithgow is a different kind of actor for certain. He can be one of the most vile villains you've ever seen or he can be a very sympathetic character that is hard to dislike. In many cases though being the intelligent villain is quite honestly one of his best roles since he has the strength of character and the talent to make one absolutely hate his character and want to see him get his comeuppance at the end. When he does play a good guy though he's just as good, but the effect is a lot different since he's more or less the kind of person that, as a protagonist, is someone that you seemingly want to see well beyond the conflict that might take place since he doesn't seem to have the same energy as he does when he's the bad guy. There's a better way to explain it honestly, but the whole feeling is that he's just geared to be the antagonist and be absolutely convincing.
Here are the five best movies from his career.
5. Shrek
Lord Farquaad is that villain you love to hate since he has no real business being as full of himself as he is and yet can't help but be one of the biggest jerks in the whole movie. And that could be why John was one of the perfect people to play him. Fun fact about this movie, Chris Farley, if you didn't know, was slated to play the big green ogre before Mike Myers, but with his unfortunate passing Myers had to take over. In a way this seems to have made Shrek one of the best movies ever, and while Farquaad was a good villain he was one of the few that didn't make the cut to proceed into the next three movies. He did show up as a ghost later on a TV movie of Shrek.
4. Footloose
Imagine a town where music and dancing are considered to be outlawed as much as possible and you might be thinking of one of the most boring towns on earth since music and dancing are just two of the many things that people still enjoy doing in this day and age. Back before technology had taken over though you can imagine that it might have seemed like nothing ever happened in the town and that anyone trying to bring the kind of music and dancing that younger people loved would have been shunned. Like a lot of movies from this time however this was one that was trying to change the norms and bend the rules just enough to make people see that life is meant to be lived, not banned outright.
3. The World According to Garp
Garp's life is a bit complicated seeing as how his mother actually raped a man that couldn't give consent and became a feminist later on. He does try his best but things don't seem to work out that well for a while and considering his upbringing and his mother it's not hard to see why at times, but again he does what he can with what he has. When he becomes part of his own tale of woe by the things he does Garp has to take a long look at his life and wonder just how things can proceed on a course that might be beneficial for everyone. In the end though it's not even certain if he gets the chance to live out the rest of his life after being shot by someone that disagrees with his views.
2. Terms of Endearment
There are those movies where he's a bit of an extra since in this movie it's kind of obvious that the mother-daughter story takes precedence considering how the two are constantly at odds throughout the movie and don't really reconcile until it's almost too late. But you can't help but think that the daughter's husband is a true sleazeball for not trying to make peace with her mother and then simply taking off when things get way too rough for his precious ego to handle. As a classic movie this is one that is kind of recommended to see just once at least to say that you have it in your mental repertoire.
1. Ricochet
Revenge is usually a good motive for anyone that's been put behind bars and wants to get back at those that busted them. But then again, breaking a person completely and then watching them self-destruct seems like a much more effective manner of gaining said revenge since it allows the psychopath in charge of the show to enjoy things, take their time, and not allow the torture to be over with too quickly. By the end of the movie though the fun and games ends in a big way since the problem with sadistic bad guys is they tend to waste too much time getting their jollies, which gives the other guys time to come up with a plan.
He's definitely a great bad guy.