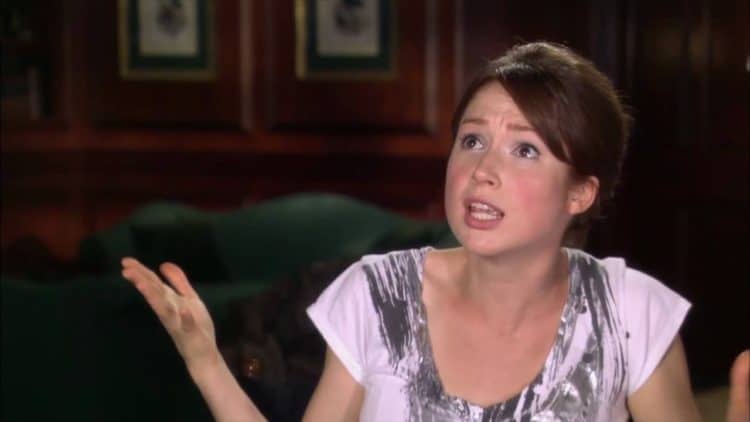 Ellie Kemper has been around a while and she's done a few things you might recognize even if you don't realize she's there at the time. She is one of those talents that does tend to get overlooked and somehow overshadowed by bigger names, but she's still a very skilled actress that knows how to get your attention when she needs to. The movies she's been in have ranged from family to adult and have been funny to just kind of 'meh' in the opinion of some folks, but she's usually been a supporting actor and not often the lead. That doesn't seem to matter thankfully since has won a few awards and been nominated for others, meaning that she's managed to grab the attention of enough people that happen to think that she's quite talented and deserve the accolades. At this point in her career it'd be nice to see her take the lead a couple of times just to see how she can handle it.
Here are five of her best movies.
5. Sex Tape
Sometimes a couple has to rev up their sex life in order for it to really do anything for them. But the problem with making a sex tape, at least in the current era, is that way too many people simply have their settings on automatic it would seem and after making their own sex tape, the couple in the movie find that it's been sent to the cloud, where it's quickly dispersed among anyone and everyone that wants to see it. In truth it's easy to be impressed since anyone that can go for so long has a great amount of stamina, but then again, it's not something you really want to become known for unless you happen to be in the business.
4. The Lego Batman Movie
Some would say that this movie was nothing but crazy and others would gladly say that it was one of the best movies ever made since in all honest it was pretty hilarious in many spots and it did kind of bring a new look to the whole idea of Batman. For a long time it would seem that we've been under the impression that the dark knight had to be deathly serious all the time with random bits of humor stuck here and there, but this movie goes well beyond that and shows that it's okay to cut loose and have a good time with the idea and simply let whatever is going to happen, just happen.
3. The Secret Life of Pets
When Katie brings a new dog home it's easy to see that Max isn't too thrilled since he's not the type of dog that wants to share his owner with anyone else. But when he and Duke go on an adventure after getting lost in the city, in the sewers, and then back in the city again they start to bond in a big way and Max begins to learn just what it means to share his home and his life with someone else. The movie was pretty amusing since it does answer the question, in a weird sort of way, what pets do when we're not at home. Thankfully cartoon pets seem a little more capable of cleaning up their messes than regular pets, kind of.
2. 21 Jump Street
Honestly and truly it's hard to equate this with the popular TV show from back in the day but it was funny anyway since the two officers that were somehow thrust together by fate come to find that they can rely on one another's strengths in a big way and are better off as a team than as individuals. When they're tasked with going back to high school though it becomes an even bigger challenge since the tables seem to turn and the jock now has to experience the life of a nerd while the nerd gets to see what it's like to hang with the cool kids for once. Of course being on the job kind of kills the whole idea of enjoying such a switch.
1. Bridesmaids
So a wedding is supposed to be the bride's day, don't argue just go with it. That leaves it up to the rest of the wedding party to make sure everything that needs to be taken care of is take care of, including, well, everything. When your best friend is getting married and wants you to be maid of honor it's important to realize that she's asking you, essentially, to handle just about anything and everything the wedding planner isn't taking care of, which could be a very long and complicated list. Thankfully a lot of people these days either have smaller weddings or leave everything in the hands of the planner and just enjoy the effort of getting to the altar.
Check her out, Ellie is pretty funny.