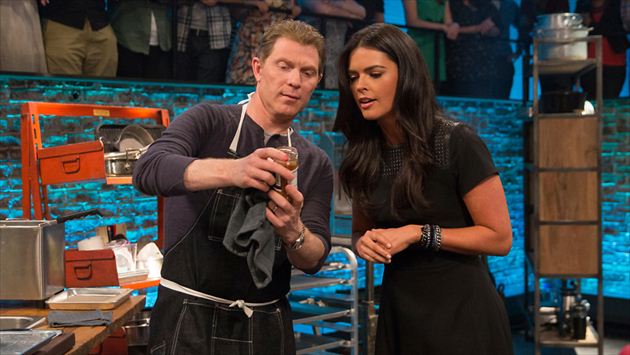 If you don't watch a lot of reality television, you might have been missing out on Beat Bobby Flay. Chances are, you're familiar with the fact that Bobby Flay is a celebrity chef. The whole idea behind the show, which is been on the air since 2013, is that other individuals are supposed to go up against Flay to see who can create the most delicious dishes. Judges are often other celebrity chefs, but the panel can also involve actors and actresses, sports stars and other celebrities. Overall, it's one of the so-called reality television shows that is more fun to watch than most of the others. If you're wondering who the best judges have ever been on the show, read about the following five individuals below, complete with video clips for each one.
1. Michael Symon
You know things are going to get interesting when one of the judges is not only a celebrity, but also one of the best chefs in the business. The fact is, both Flay and Symon have earned the Iron Chef moniker so you know things are about to get interesting when one is judging the other. As it turns out, the two are also friends and have at times been roommates in the past. With that being said, it certainly doesn't stop Symon from being everything that a fair and impartial judge should be.
2. Katie Couric
She has long been known as one of the most serious journalists in television news, frequently appearing on morning new shows, filling in for other individuals on evening news, and even hosting her own talk shows. It only stands to reason that she would eventually end up doing something like this, as she's always looking for something new and exciting to take on on. Apparently, she got along with Flay so well during the show that the two of them even started talking about doing other reality television shows together.
https://www.youtube.com/watch?v=t8dT5J-rjUs
3. Anthony Anderson
Most people are familiar with Anderson, especially considering the fact that he's one of the more popular comedians and sitcom stars of his time. His overwhelming popularity his made him a regular face on game shows as well as in places like this, where he serves as something of a guest star. Most people remember him for his ability to come up with some quick-witted jokes, but when it comes time for him to judge a competition like this, you get to see a more serious side of him.
4. Brooke Burke
A lot of people are familiar with Burke from the days where she co-hosted Dancing with the Stars. Although she definitely had a career before that, this is where she became something of a household name. Although she hasn't been on the show for quite some time, it didn't slow her career down whatsoever. Over the years since leaving Dancing with the Stars, she's done a number of commercial spots and has guest-starred on several shows just like this one.
5. Rachael Ray
This is another celebrity chef that has been working in the industry for a long time. Not only does she have her own television show where she cooks various dishes, she also has several different product lines that she has started over the years. They incorporate everything from pots and pans to a special dog food line. Part of what has made her so popular is her approachable nature. In fact, she's guest-starred on Flay's show not once, but twice.
In addition to these five guest stars as judges, there have been a whole host of other individuals that have participated on this particular show. In general, it's relatively safe to say that almost every well-known celebrity chef has been a judge at least once and sometimes, has also gone up against Flay as a competitor. It's equally safe to say that just about any person with celebrity status who has a love for cooking has been invited to the show at one time or another. Perhaps that's the thing that really sets this particular reality show apart from everything else that's on TV today.
Tell us what's wrong with this post? How could we improve it? :)
Let us improve this post!