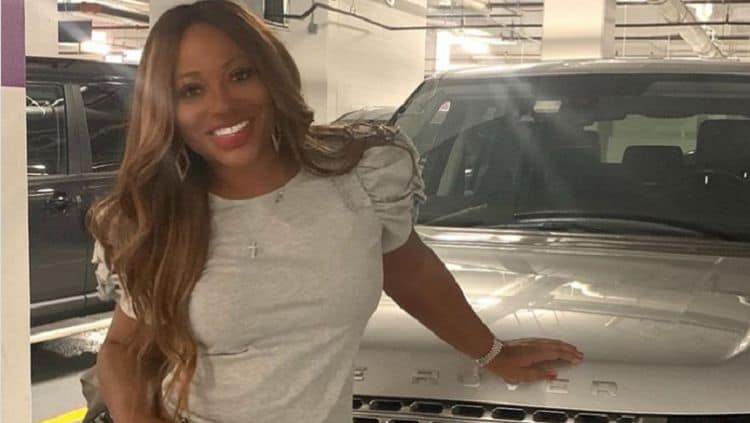 For over a decade, The Real Housewives of New York has given the world a glimpse into what it's like to be a wealthy housewife (or divorcee) in New York City. The show has almost all of the makings of good reality TV: drama, glamour, and excitement. But if there's area where RHONY has always lacked, it's diversity. However, it looks like they're working on changing that. Next season, the show will welcome Bershan Shaw, the series' first Black cast member. Bershan is a force to be reckoened with in the business world and she's sure to bring an interesting new dynamic to the show. Continue reading for 10 things you didn't know about Bershan Shaw.
1. She's A Breast Cancer Survivor
Everything in Bershan's life changed when she was diagnosed with stage four breast cancer in 2007. At the time, she was in her early 30s and wasn't sure how she would fight the vicious disease. Ultimately, she decided to tackle the illness head on and with the help of her warrior mindset and her doctors she was able to push through. When the disease came back for a second time, Bershan defeated it once again.
2. RHONY Won't Be Her First Time On TV
Bershan isn't a reality TV star (yet), but The Real Housewives of New York certainly won't be the first time she's been featured on TV. Bershan was on a reality TV show called Love in the City back in 2014. She has also made appearances on several shows including OWN's Sister Circle.
3. She's A Washington D.C. Native
Bershan lives in New York City now, but she was actually born and raised in Washington D.C. She moved to New York for college where she attended Syracuse University. She eventually decided to relocate to the city. The Real Housewives family also has a series that takes place in Potomac, MD which isn't far from Bershan's hometown.
4. She's A Motivational Speaker
Bershan has had to overcome lots of tragedy throughout her life. In addition to her own battle with breast cancer, she also lost her mother to the disease. On top of that, her father battled with prostate cancer. All of these experiences could have knocked Bershan down for good, but instead she chose to use them as motivation to keep moving forward. She is not a motivational speaker who enjoys empowering and uplifting people.
5. She Has A Master's Degree
Education has always been a very important factor in Bershan's life. After earning her bachelor's degree in broadcast journalism from Syracuse, Bershan went on to earn a master's degree in journalism from New York University. Needless to say, she has put both of her degrees to good use over the years.
6. She's Not Married
Despite the show's title, Bershan isn't actually a housewife which isn't that unusual for women on the show. She appears to be completely single at the moment, but according to court records filed in New York, she was once married to a man named David W. Bradley. There's nothing to indicate that the couple had any children together or that Bershan has had any children on her own.
7. She's Very Close With Her Father
Bershan is a very family oriented person and she has an especially close relationship with her father. She credits him with teaching her how to be a resilient person. She spends as much time with her father as she possibly can and he makes frequent appearances in her Instagram posts.
8.She Hosts A Podcast
Bershan is the type of person who is constantly on her grind. She loves utilizing different avenues to share her message and podcasting is one of those mediums. She is the host of her show, Buckle Up with Bershan, which focuses on sharing positive and uplifting messages with listeners.
9. She's An Author
Just when you thought Bershan's professional life couldn't get anymore impressive, you find out she's also an author. Her book, URAWARRIOR 365 Ways to Challenge You to a Better Life, was released in 2014 and is dedicated to providing actionable steps people can use to find their inner warrior.
10. She Likes To Travel
Bershan spends a lot of time working, but that doesn't mean she doesn't like to enjoy herself too. After all of the things she's been through she is dedicated to living her life to the fullest. One of her favorite things to do is travel and she has an extra special place in her heart for Turks and Caicos. She refers to the islands are has "home away from home", her "sanctuary", and her "peaceful place".