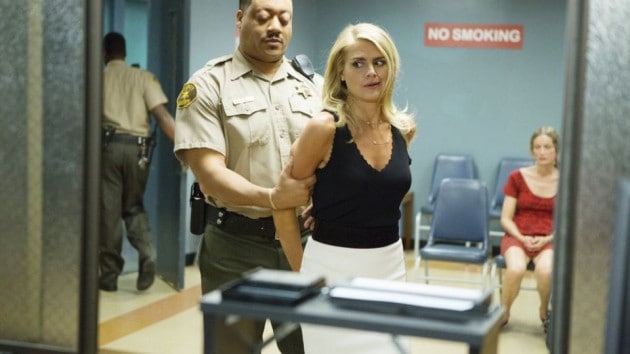 On most comedies – particularly young ones vying for attention in a crowded genre – "Hooked and Booked" would be an easy-through line for romantic story lines, centered around the things men and women will do to garner each other's attention/praise/Hot Glances/etc. And there are moments early on where it feels like Benched's third episode is heading in that direction, especially after splitting up the men and women (well, singular woman) – but as the episode carries on, it reveals itself to be something a bit more subtler and less sugar-glazed than one might expect.
The central plot of the episode – Nina getting herself imprisoned because Phil fools her into thinking it's some rite of passage for public defenders – is a great story to construct an episode around, for two reasons. The first is the obvious one: it gives Eliza Coupe plenty of comedic fodder to work with: and whether it's physical comedy (like her trying to punch someone or use the holding cell toilet) or written jokes, she's game for it all, her comedic range on full display as she learns what it's like to get tased, humiliated, and pounded on (by one of her own clients, no less). It was also nice to see Nina finally connect with a client of hers away from the defendant's table, even if the setting is an equally stuffy and closed-off one; anything that characterizes Nina as something besides bitter career woman is welcome material early on, and her drawing parallels to her client's situation (a ridiculous notion give their situation, something the show is surprisingly cognizant of) and finding meaning in that (not to mention a way out for her client) was a nice light touch of character for our protagonist.
There's also a secondary benefit to separating Nina from her co-workers: we finally get to spend some time with Phil, Carlos, and newcomer Larry (who has some sweet, sweet dances moves), further fleshing out the world of Benched and adding a little male energy to the mix (outside o Phil and Judge Nelson, the first two episodes are propelled solely by Nina, with a little help from Cheryl) in the process. The only problem here is that it gives more character to Carlos and Larry than it does with Phil, who still kind of feels like a dry-erase board of a character: he's there, he's functional, and the longer something is left up there, the harder it will be for the show to get rid of it. It feels like Benched isn't quite sure how much of a jerk they want to make Phil; keep him redeemable enough for the audience to want him to date Nina, or throw him into the deep end where he can play as Nina's office foil, ridiculing her while simultaneously leading her down the path of personal enlightenment? The show seems to want the former; but when it leans towards the latter (as it does in the opening and closing scenes of the episode), it feels like a much stronger, more complete show – then again, maybe this is just the lingering effects of losing Selfie, and desiring a playful, mostly platonic relationship between co-workers on TV (though if Selfie was to film a whole first season, I'm sure the leads would sleep together… but I digress).
Whatever the case may be, "Hooked and Booked" allows for the focus to be pulled back a bit on Benched to include the whole office (although there's no Cheryl or Burt this week, something we can probably chalk up to for budgetary reasons), and I think the show will benefit greatly from it moving forward. There's a bit of pathos to be found in Carlos's character, who – like Nina – finds himself starting again after the end of an important relationship – and if Larry sticks around to be the weirdo who makes random off-color jokes, it's fine by me. The more Benched takes a Scrubs-like approach to building out its ancillary characters (that is, piggybacking on small developments and running jokes to fully flesh out a character who only gets a few lines an episode), the better: Nina is a character who works well enough in a vacuum, but still needs a background of secondary characters, both lawyers and not, to give her a living, breathing world to reside in. Something many modern comedies forget; atmosphere is everything. It's the difference between 2 Broke Girls and something equally mediocre, but doubly as pleasant as Two Guys and a Girl – when there are a fun group of people to hang out with beyond the central pair, there are richer, infinitely more fertile grounds to tell stories and build jokes from. And early on, it appears Benched is off to a good start down the right path, a road lined with expletives, innuendo, and a light touch of emotional catharsis and social reflection.
Photo via USA Network