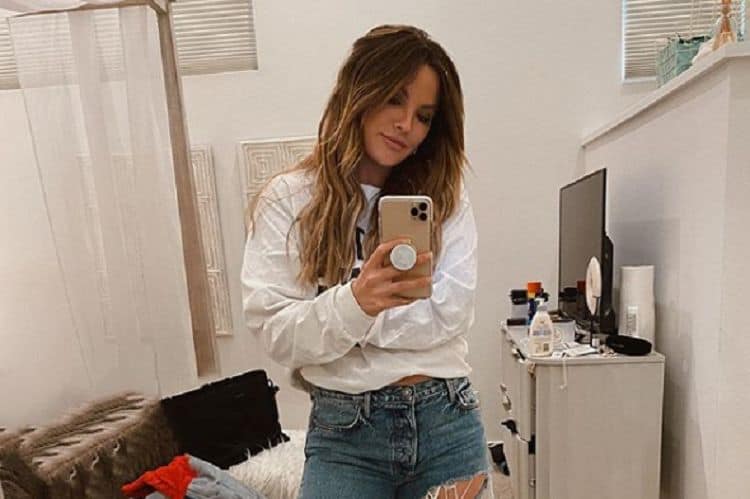 Becca Tilley first came to our attention on season 19 of The Bachelor. Despite failing to find her happily ever after on the show, she's certainly found it since. Now one of the most popular influencers, TV personalities, and fashionistas of the day, she's proof that, done wisely, fame can last a whole lot longer than the prescribed 5 minutes. Find out more with these ten fast facts.
1. Before She Was Famous
Before coming to our attention on season 19 of The Bachelor, Tilley was just an ordinary girl from Louisiana. Her father, Chris Sr., played American Football at Louisiana Tech University before moving on to coach the sport in later life (one of his star pupils was Jacob Hester, a player with the San Diego Chargers who later went on to marry Tilley's sister, Kate). After deciding not to follow her family's footsteps into athletics, Tilley trained to become a chiropodist, and was working as a chiropodist's assistant when she got the call for The Bachelor.
2. Bachelor History
We first met Tilley back in 2015 when she got all the way to the final on Chris Soules' season of The Bachelor. Despite Chris's clear affection for the Louisiana charmer, he eventually decided to hand the rose to fellow finalist, Whitney Bischoff, instead. Chris's rejection didn't spell the end of Tilley's Bachelor experience, however: in season 20, she returned for a second shot at love with Bachelor Ben Higgins. This time around, she didn't fare quite so well, although she still managed to finish in a respectable fifth place.
3. High Profile Relationships
Tilley might not have won the heart of either Soules or Higgins, but her time on The Bachelor wasn't a complete romantic failure. United by their shared experiences, she and fellow Bachelor Nation alum, Robert Graham, became friends; in 2017, their relationship took a romantic turn, with Tilley telling People, "It's funny because we've been friends for a while and it just kind of morphed into this relationship." Unfortunately, it turned out they worked better as friends than they did as lovers, and after a year of dating, they split in 2017.
4. The Podcast
If you can't get enough of Tilley, you're in luck. Every week, the former reality TV star teams up with Tanya Rad on their podcast, "Scrubbing in with Becca Tilley", to dish the dirt on relationship woes, their favorite shows (hint: Grey's Anatomy features heavily), and the latest celebrity gossip. Available free and on-demand on iHeartRadio, it's the perfect place to tune in to Tilley and get the latest on her life.
5. Kissing and Telling
Robert Graham isn't the only Bachelor alum Tilley's tussled with. Speaking to E!, Becca revealed exactly which of The Bachelor's menfolk she's dallied with… and which she's said a resolute no to. "I kissed Dean [Unglert] at one point, but it was a very drunken kiss, both of us, and it was not a romantic situation at all," she shared. And the one she refused? Eric Bigger. "I was in a relationship, so I just told him I was very flattered, but I was in a relationship," she explained.
6. The Blog
After finding fame on The Bachelor, one of Tilley's first ventures was to create a lifestyle and travel blog. Still up and running today, the blog serves as a sneak peek into Tilley's life and activities, with enough beauty, travel, and fashion tips to keep fans more than satisfied.
7. Keeping Mum
Considering that her very high-profile relationship with Robert Graham ended in a split, it would be understandable for Tilley to try to keep her love life out of the spotlight for a while… and indeed, that's exactly what she's doing. Since fall 2019, Tilley has been happily loved up with her new partner. As for who that is… well, your guess is as good as mine. "My last relationship with Robert [Graham] was very public, and it made it very hard once we broke up, just the pressure of it. And I decided with this one, that I didn't want that. So, I just have kept it private until I don't want to anymore," she's explained of her decision to keep things under wraps. "We are definitely on the same page with being private which is nice," she added. "It takes the pressure off."
8. It's All About Self Love
Being in the public eye is never easy; if you're young and female, it's even harder. After being plagued with body insecurities for years (something hardly helped by the constant scrutiny of the media), Tilley has finally learned to shake off her insecurities and embrace herself for who she is. "I had a moment the other day that really changed my perspective on how I view my physical appearance," she said of her new body-positive attitude. "I was thinking, no one has ever impacted me by being beautiful or having a perfect body. It might get my initial attention or even be inspiring, but it's never been the reason I remembered them."
9. The Capsule Collection
If there's one thing you can say about Tilley, it's that she's got ambition. While some former reality TV stars are happy enough to eke out an income drifting from one new reality show to another, Tilley has done the opposite, using her celebrity status as a platform to build bigger and better things. Case in point: her capsule collection for Macy's. Created in collaboration with the creative team at Reunited Clothing, the collection features a line of dresses and separates designed to be both aspirational and accessible. Describing the collection to E!, Tilley explained, "My goal was to create a line that anyone with any shape or body type or size could put on and feel confident in themselves. For someone to go put on clothes from my line whether they're an extra-small or not an extra small and be able to walk out feeling so good about themselves in something that I helped design and create, that was my mindset when creating it."
10. The DoorDash Collaboration
If her work over the last few years is anything to go by, Tilley will soon be sitting on top of her very own empire. Clothing lines, podcasts, TV gigs, and most recently, a collaboration with DoorDash, the on-demand delivery service connecting hungry customers to local restaurants. "I feel like anyone who follows me on any form of social media knows my love for food delivery. I'm on the go, I don't cook a lot, so DoorDash, in particular, was an easy yes," Tilley told People.
Tell us what's wrong with this post? How could we improve it? :)
Let us improve this post!