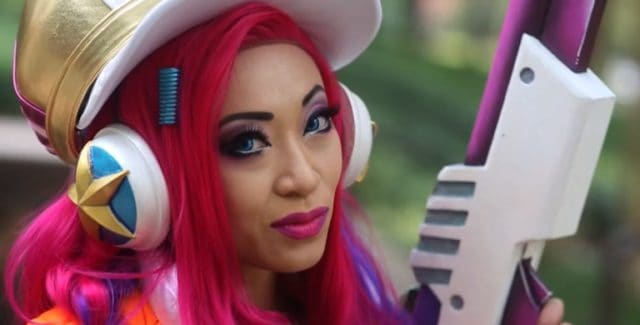 One thing about League of Legends, you can see a ton of influential material within the game that was no doubt pulled or modified from other games, movies, or comics that have come before. So long as they're original however that's always allowed since it brings a new level of imagination and creative spark to the cosplay world. League of Legends was inspired by World of Warcraft, and it shows, but there are a lot of other elements that seem to pull from a much wider source. The result though is entirely unique and it is nothing short of awesome.
While I've never played the game I can imagine that it's quite expansive given that players have been flocking to it for so long and have been using it as a model for cosplay for six years or more. The designs and costumes they've come up with are just flat out awesome, and in some cases very alluring. It's kind of odd in video games how men and women's looks tend to differ so much.
Typically the higher level a male character is the more armor he'll have and the better, more impressive weapon he'll be carrying. The opposite seems true of a lot of women since the less they wear the tougher they seem to get, and their weapons either get a lot more dangerous-looking or are so insanely huge that you'd think they would have to be Wonder Woman just to lift them. The visual effect is definitely impressive but the reality and practicality of it would be something best left to a debate that takes place far away from the conventions.
The one thing you never do is get picky about cosplay. Barring that the next thing you never do, especially at a convention, is tell anyone that their costume is a ripoff of any other franchise. It's simply bad etiquette and while it might not afford you a beat down, because really no one gives a flying you-know-what for your opinion, it will tend to earn you the enmity of the crowd.
Cosplay isn't about division. It's about coming together as a unit of diverse individuals that share a passion for something larger than themselves that is simply fun to engage in and affords them the chance to be a hero or a villain while they're in costume. I definitely wouldn't call it a religion since it's not so by the book that people absolutely HAVE to go one way or another with their costumes, but it's definitely a gathering in which it pays to be polite concerning another person's costume and show some respect for the time and effort it took to get it all right.
There are obvious exceptions to the rule however. If you come in a costume that's obviously store bought and attempt to stand amidst the rest of the cosplayers you might receive some dirty looks, and if you come in a costume that shows little to no effort on your part the same might apply. Cosplayers take a great deal of pride in what they do and someone attempting to cheapen it just doesn't fly.
Save