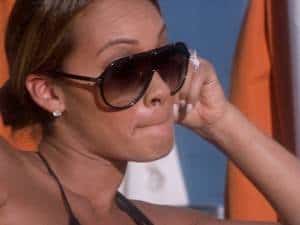 I have a very love-hate relationship with Evelyn. While I think she's an evil, melodramatic, punk ass excuse for a person, she gets off a one-liner here or there that tickles my funny bone but good. Trust, if the Evelyn we see on Basketball Wives is anywhere near the "real" Evelyn, I'd never come within 1000 miles of her, but just when I'm ready to really tear into her in my weekly piece, there'll be something she says on the show that I'll secretly adopt into my vocabulary for a week or two. And aside from that, girl provides me with a lot to talk about on here, so if I have to put up with her foolishness to get good material, I can deal.
But goodness, what a hot mess she was tonight. The wine bottle throw heard 'round the (Twitter) world may have made for outrageous television, but the reaction that Evelyn had upon hearing Kenya's comments was just so extra. I understand being upset at anybody calling you a name, but if you're owning your past and don't give a flying biscuit what anybody has to say, why are you so mad at what some random person says about you before meeting you? Either Evelyn was showing out for camera time, yet again, or she's got the thinnest skin of any reality TV "bad girl" out there, because seriously? You're a grown lady getting this out of control over something petty and stupid. Stop it. You could argue that having to recount what Kenya said over and over and over to the cameras could have exacerbated her emotions, but throwing a wine bottle at somebody for calling you loose is crossing the line from exacerbation to psychopathy. I wouldn't even mind if they got into it, if only because their egos are involved, but there's such a disconnect between the severity of what Kenya said and what Evelyn did that's just ridiculous.
Life is too short to fight everybody that says something bad about you, so again, stop it.
And once again, ol' Switzerland ass Shaunie buries her head in her hands instead of being an active participant in the proceedings. Lovely.
She did, however, get her first human moment in helping her daughter Mimi meet her idols Mindless Behavior. Of all the criticism I've had about Boss Lady, the most frequent has been that I don't know her from a can of paint, thanks to the carefully guarded edit she gets and the very limited screen time. I still don't really know her, but during the planning and execution of her birthday surprise for Mimi, I actually kind of liked Shaunie, so that's at least a step in the right direction. It was sweet how overwhelmed Mimi got when at the concert and giving them a hug for the first time, so while it didn't have anything to do with anything, I'm glad we got a chance to check it out, in all its shoe-horned goodness.
A little more relevant was the reconciliation of Tami and Suzie following the ignorant food stamp comment from the latter. To tell you the truth, I kind of didn't expect that to happen, only because everybody knows how bull-headed Tami can be. As the two were never that close to begin with, I assumed that Tami would wash her hands and go running back to the bronzed bosom of bestie Evelyn, but lookie here. A peaceful, grown up mediation that ended with no cross words and a hug. Though a foreign concept in the land of thrown drinks and botched weaves, acting like a grown up can actually make for good reality TV; I mean, is there anybody out there just fighting all the time? All day, all night, with everybody…ever? It can get a little silly, the constant battles and alliance-heavy episodes, so ending a small fire felt like a nice balance to whatever the hell Evelyn was doing in that wine cave.
I still can't take Suzie and the desperation that pours from the screen when she's on it, but props on finally getting people to be friends, Royce.
If all it takes to set Evelyn off is to randomly call her loose, apparently me and her need to get into a steel-cage match, y'all. But honestly, why should she care what I think? I don't know her and I have no baring on her life – that's why this whole Ho Gate is silly to me. Kenya didn't know her when she said anything, so it's no different than me or any random internet person shading her on Twitter. If you're going to be on reality TV for as long as Evelyn has been, you have to expect that people are going to have strong opinions about you; if you come into contact with them like she has Kenya, show her why she's wrong instead of reinforcing all the negativity around you. Granted, Kenya could have very easily said "yeah, I said it, but now that I know you, I changed my mind/see that I was wrong" and it could have ended easy as that.
But of all adjectives to describe Basketball Wives, easy isn't the one I would think of first.
Loose, on the other hand…
Thoughts, Quotes, & Observations:
-"And I'm mad at her kitten heels."
-"So she needs to be on pause for a minute."
-"This b gonna send me straight to hell just for trying to help her."
-"I feel like I'm in love with Mindless Behavior."
-"There are way too many weapons in this room."
-Evelyn's shade may read like a bunch of live tweets strung together, but her comment about Kenya's weave looking like Tami's coupled with Tami's WTF face gave me extra life.
-Sakara was adorable, no?
-Next week on Basketball Wives: Evelyn's vowing to make Kenya's life hell, Royce and Jennifer get together to talk, Kenya has a finished copy of her music video, and Tami confesses something to her mom.