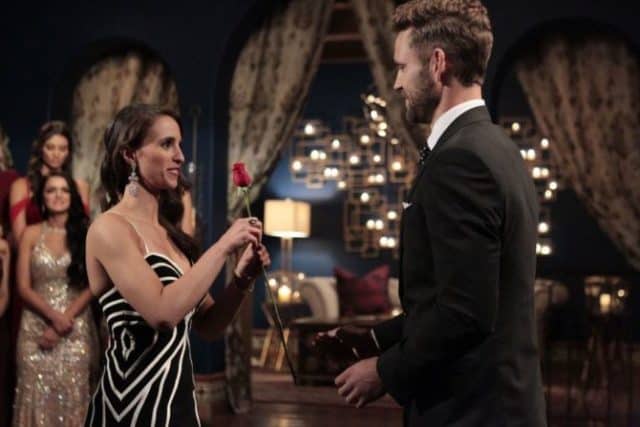 I don't think there are too many reasons to be excited about The Bachelor finale. It's a showdown between Vanessa Grimaldi and Raven Gates to win the affection and love of Nick Viall. But honestly, who cares? I think now that Corinne Olympios is off the show it just doesn't matter anymore. She was the fuel that lit the fire every single episode and whether you liked her or not you couldn't turn off the television. This is why I'm hoping that in some way, somehow Corinne finds her way into the finale and mucks up one of the final dates. I know it'll probably never happen but how awesome would it be if Nick and Vanessa were eating a lovely dinner at a romantic spot and a drunken Corinne rolls up and falls all over the dinner table?
At this point however, I would not rule it out. Seriously, I wouldn't. This season's been the epitome of dirty and sleazy so I'd put nothing past the producers to keep the ratings high. While I could sit here and say I'm completely done with The Bachelor after the finale, you know as long as its on people are going to be watching.
As far as who the winner will be tomorrow, is there really a winner? I don't think so. I think you lose either way. A source revealed that Grimaldi's family members aren't thrilled with the idea of her marrying Viall. "Their opinions are important to her," the insider shared. "Hearing their negative feedback has been really hard. At this point, she isn't sure she can move forward with someone like Nick." Gee what a surprise.
According to Gold Derby, Grimaldi has a slight edge over Gates going into the finale. Viall has already shared what he thinks about the final three women and admitted they each have their own attractive qualities. He has, however, expressed doubts about moving forward with all three of them.
Guess we'll have to wait until tomorrow! Seriously, who cares?
Save
Tell us what's wrong with this post? How could we improve it? :)
Let us improve this post!