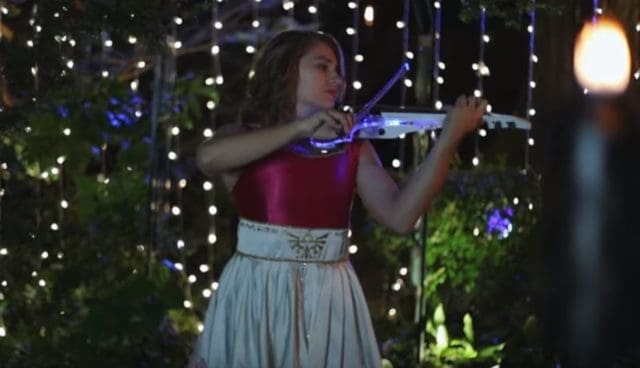 So I'm not a big Legend of Zelda fan, but I am a music lover and I can say with all honesty that this piece is very impressive as well as beautiful. The violin that Taylor is holding is quite interesting as well since i have seen a few newer, less traditional versions of several instruments now and find them rather interesting as they are very different than the original instruments that have been used for so long.
But listening to this piece is quite nice. It is not all action, nor is it all slow, measured reflection. It is a harmonious blending of the two, and as such is quite pleasing to the ear. It sounds exceedingly simple, though you won't find me picking up a violin to prove that theory. For those that play however I do believe it would be fairly simple to replicate and despite the simplicity it is soothing and very powerful in its own way.
As I said I am not a Legend of Zelda fan so aside from knowing where the piece comes from I could not tell you just where it occurs in the game. I do know that Legend of Zelda has for a long time been one of the most popular games for the Nintendo corporation and for as long of a time has vied for popularity with Mario Bros. Even if the margin between them is slightly wider at this point I still feel confident in saying for many years the two went head to head when it came to who was played more often, despite being on the same system.
Mario is the older game, but Zelda was the game that people coveted so often, earning what they could in order to grab the gold-colored game cartridge for the NES and then going on to play each and every game with an obsession that wouldn't be stopped until every last bit of the virtual world was laid bare and conquered. Mario has by extension been just as popular but has also faded from time to time either due to his abundant accessibility or because the ideas seem to recycle so often. Zelda does the same, but then Zelda has one thing that Mario never did, the superior music.
Like it or not, the musical score of a game can make or break it. A game becomes a real experience when the right music is playing and can lift the player up or make them go a little quicker and try a little harder if it gets challenging. It can also soothe them after a particularly difficult portion of the game and allow them to relax and ready themselves for the next moment to come.
The Great Fairy Fountain is without a doubt one of the more soothing pieces despite the fact that it begins to move quickly and with moderate force before slowing down once again and allowing the listener to fall into the simple but wonderful melody.
Save