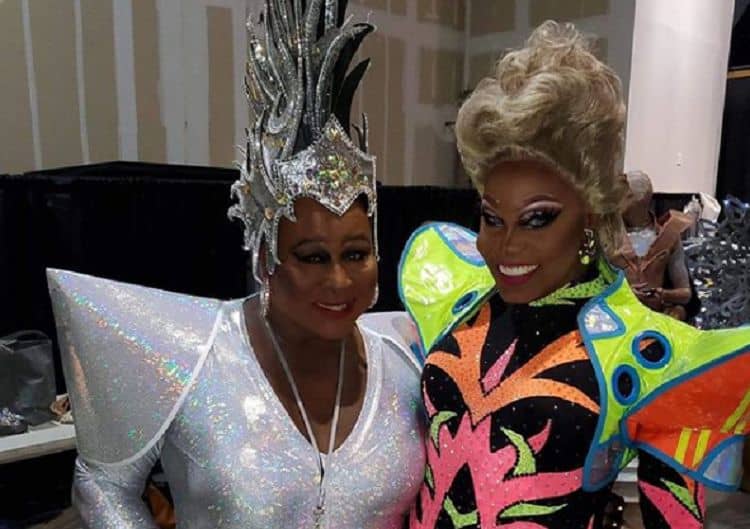 The multi-talented Asia O'Hara first came to international attention in season 10 of RuPaul's Drag Race. After becoming an instant hit with her big heart and fabulous costumes (who can forget her avant-garde mermaid outfit complete with a fish mask, or that butterfly dress?), she eventually finished the season in 4th place. Since then, her career's gone from strength to strength, taking in hosting gigs, one-woman shows, and even a few forays into the music biz. Find out more with these 10 quick facts.
1. The Family Way
O'Hara was born Antwan Mason Lee to a family of 8 brothers and sisters on July 7, 1982, in Grand Prairie, Texas. Clearly, a love for performing ran deep in the family gene pool, with each of the siblings eventually finding jobs in the entertainment industry. O'Hara herself started young, seeing out her high school years performing in band, color guard, and theater.
2. Her Number 1 Inspiration
O'Hara's interest in drag developed in the mid-1990s. After seeing Mariah Carey's video to her track "Always Be My Baby", O'Hara suddenly knew where her future lay… although it did take her a few years to realize she didn't so much want to be Mariah as just do the same things as her. "The music video was filmed in the park, and she was like swinging on that swing over the lake," she recalled to D Magazine. "And I remember looking at that and thinking, Oh my god, I want to be her. But then I thought, Oh, I don't really want to be her–I just want to be singing this song, on that swing, swinging over that water. A couple of years later, I realized, Oh my god, that's drag. So, that was like my first sign."
3. The RuPaul Experience
In February 2018, O'Hara was announced as one of the contestants on season 10 of RuPaul's Drag Race. She quickly won favor among both the contestants and the viewers alike, winning two main challenges and finishing in 4th place overall. Her association with the show didn't end there: since the season finished, she's hosted both the red carpet for the RuPaul's Drag Race season eleven live finale and RuPaul's Drag Race: Season 11 Tour, and appeared alongside a dozen other RuPaul girls on RuPaul's Drag Race Live!
4. An Electrifying Christmas
In November 2019, O'Hara delighted her fans by announcing the launch of her first self-produced one-woman show, "Asia O'Hara's Electrique Christmas". The event, which promised audiences "an electrifying journey through an extraordinary Yuletide land of mystery, wonder, and magic," packed the house out at The Rose Room.
5. Miss Everything
Since she exploded onto the drag scene in the early 2000s, O'Hara has won just about every award and title going. Just a sample of her accolades includes Miss Online Dream 2016, Miss Gay America 2016, Miss Gay Texas America 2015, Miss Gay Briar Park America 2015, All American Goddess 2012, Texas Entertainer of the Year, F.I. 2010, Miss Texas FFI 2010, and Miss Gay USofA 2007. If space allowed, we'd go on; as it is, we'll leave it there.
6. Butterfly Fail
During the season finale of Drag Race, O'Hara suffered a fail of epic proportions after her colorful butterfly-inspired costume failed to deliver the goods. Secreted away inside the dress were scores of real butterflies: at a strategic moment, O'Hara planned to release them to light up the stage in a stunning display. Unfortunately, the butterflies choose to sleep through the entire thing, something O'Hara later attributed to the cold conditions. "They need to warm up to a certain temperature in order to fly away," she explained to E!. "I, of course, rehearsed it at home several times and it worked, but [the finale was] a different place and a different environment, and I don't think the contraptions were warm enough to wake the butterflies up. But, as they warmed up in the stage lights during the break, they started to fly away!" Mortified by the disaster (which wasn't helped by the fact most of the butterflies ended up dying), O'Hara took to Twitter to apologize to her disappointed fans, tweeting "I would like to publicly offer the entire world my deepest apology. It's important that everyone knows that I would never purposely hurt any living being and have the utmost respect for all animals."
7. Forging Friendships
Contestants appear on Drag Race for a multitude of different reasons and with a multitude of different hopes. What seems to unite them all, however, is what they ultimately get out of the show: friendships. O'Hara is no exception, telling Them, "My favorite part was of course the new relationships and friendships with people I would never have crossed paths with."
8. Touring with Taylor
Of all the queens O'Hara's toured with, there's one, in particular, that's made a massive impact: fellow season 10 contestant, Valentina- a woman whose presence, in O'Hara's opinion at least, is akin to that of Hollywood legend, Elizabeth Taylor, and whose level of craziness is about the same. "Not crazy bad, crazy good," she clarified to Billboard. "But Valentina is in a different universe than the rest of us in the same show. Like it's so fabulous. It's what I would imagine it would be like to be in a room with Elizabeth Taylor."
9. The All-Powerful
In June 2019, O'Hara earned a prestigious place on New York Magazine's lineup of the 100 Most Powerful Drag Queens in America. Joining her on the round-up were numerous other season 10 contestants, including Miz Cracker, Monique Heart, Blair St. Clair, Eureka O'Hara, and Aquaria.
10. Moving into Music
Like a lot of Drag Race contestant's, O'Hara's dipped her toes into the music world. Her first single, "Queen for Tonight", came fresh off her success on Drag Race in June 2018. Next up was an appearance on Lizzo's music video to "Juice" in April 2019, while her second solo single, "Crown Up" dropped in May that year.
Tell us what's wrong with this post? How could we improve it? :)
Let us improve this post!