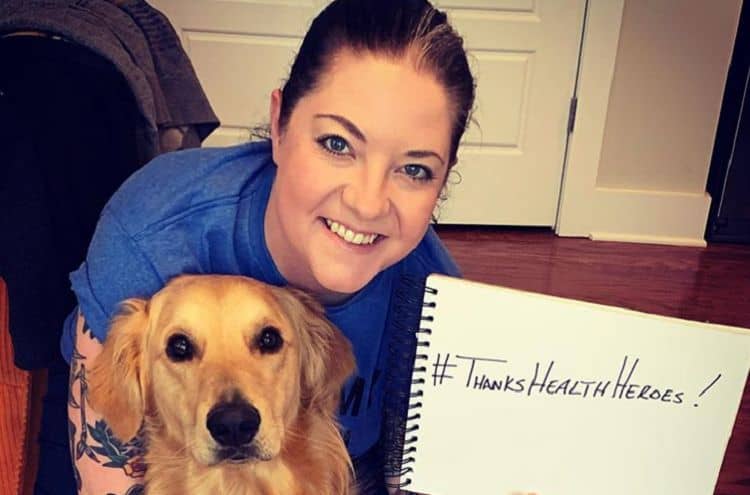 Ashley McBryde is an American country music star who is best known for her outstanding singing and songwriting skills. The 36-year old musician who was born on July 9th, 1983, is known to have had her passion for music since her teenage years when she used to play with her father's acoustic instrument regularly. In an interview with All Access, Ashley revealed that she wrote her first love song about a broken heart only when she was 12 years old. Below are some quick facts about Ashley McBryde.
1. Her background
Ashley was born in Waldron, Arkansas, where she spent most of her early years before moving to Memphis to attend her college studies in Jonesboro. It is here that her love for making music developed a lot as she would miss classes to play at least four nights every week. She was pursuing her bachelor's at Arkansas State University but still spent too much time on music. One of her college band instructors saw her love for music and advised her to follow her heart. The encouragement prompted her to drop out of school and move to Nashville in search of her dream. She disclosed to All Access Music Group that she was an awful class-skipping student, but she never missed a music lesson during her undergraduate years.
2. Her music debut
Making it in the United States music industry is not a walk in the park; some musicians take decades for fans to see their skills and appreciate their talent. Ashley has put a lot of hard work to perfect her craft, and fortunately for her, people started enjoying her musical talents. After moving to Nashville, Tennessee, Ashley released her first EP in 2006, and it was not long before other country artists saw something in her. Since then, she has curtain-raised for several country stars such as Chris Stapleton and Willie Nelson.
3. Her music record
Not many country musicians enjoy the pleasure of being featured by some of the industry's best magazines for their musical works. In 2017, The New York Times published that her song "A Little Dive Bar in Dahlonega" is one of the top 54 best country songs of the year. Another renowned publisher, Rolling Stones, also wrote that the song is among the leading 25 country songs of 2017. Boosting her career and putting Ashley on the country spotlight, thus increasing her musical career heights.
4. Her record label
After having a good 2017, major players in the industry showed their interest to work with Ashley. In September 2017, Warner Bros. offered the country singer/songwriter a recording deal. She ended up signing a record contract with the giant entertainment company and is currently under Warner Bros. Record Nashville. Ashley has released one album called "Girl Going Nowhere" with the label and is currently working on her second studio album.
5. Her music associates
In the music industry, no artists can work alone and make it without having a team of close people that help them record and release good music. Ashley has worked with a ton of music producers, one of whom is Eric Church. According to Ashley McBryde, the country music sensation once invited her on stage to perform and openly admitted that he is a huge fan of the singer. The singer has worked with producer Jay Joyce who produced her debut album "Girl Going Nowhere." She also boasts of sharing the same studio with former 'Mercury' band member Toby Keith who has produced a few of her singles.
6. Her commercial success
The US music industry is well structured and records the sales of all genres of music. Ashley has had a good run as her first album sold over 40,000 units to debut at numbers 7 and 4 at the US and UK country charts, respectively. Her single "A Little Dive Bar in Dahlonega" has to date sold more than 60,000 copies and peaked at number 30 in the US country charts. Her other well-performing songs are "One Night Standards" and "Girl Goin' Nowhere." She has also engaged in very successful tours that sell out and is currently touring several cities such as Atlanta and Las Vegas.
7. Her awards
Ashley has several accolades to her name. In 2019, she beat four other nominees to scoop the Country Music Association Award for New Artist of the Year. In the same year, the CMT Music Awards honored her for having the Breakthrough Video of the Year for her single "Girl Going Nowhere." Her other honor was from the Academy of Country Music, which recognized her as the New Female Vocalist of the Year in 2019.
8. Her nominations
Her album "Girl Goin' Nowhere" was nominated by the much-coveted Grammy Awards in 2019 as the Best Country Album. The academy has also nominated the single "Girl Goin' Nowhere" as the Best Country Song and Best Solo Country Performance for the upcoming 62nd Grammy Awards. The Daytime Emmy Awards have also nominated "Girl Goin' Nowhere" for Outstanding Performance. Her other nominations include ACM Awards for Female Artist and Vocalist of the Year.
9. Her social media life
Similar to other modern celebrities, Ashley is an active user of social media platforms where she interacts with her thousands of fans. She has a growing following of 90,000 users on Instagram alone and 11,000 followers on twitter. She shares her professional and personal activities with her supporters through her two leading social media accounts, where she goes by the user name 'ashleymcbryde.'
10. She is an animal lover
On several occasions, McBryde is seen expressing her love for both domestic and wild animals. On her March trip to Australia, the singer took the time to hang out in the forest with lone pine koalas at the Lone Pine Koala Sanctuary in Brisbane. She is also a horse lover and often visits horse sanctuaries during her free time. McBryde also loves dogs; she once had a dog named Scooby before posting his demise on her Instagram account.