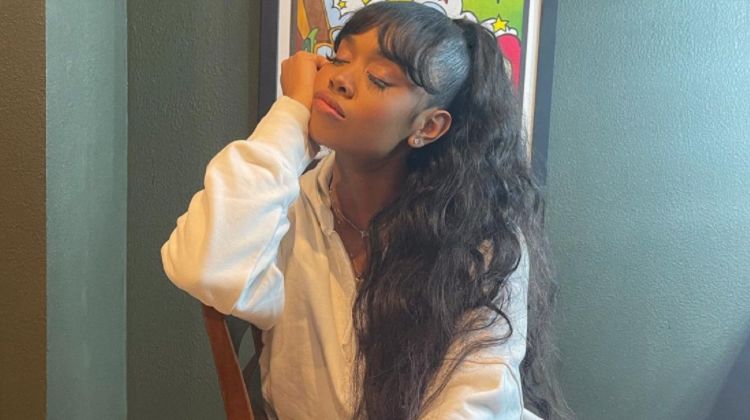 Over the last few years, H.E.R has become one of the most talked-about performers in the music industry. She gained widespread recognition in 2016 with the release of her single, "Focus". The multi-talented artist has become well-known for her skills as a singer, songwriter, and guitarist. Her artistry has been compared to some very legendary names such as Prince, and the fact that she's only 23-years-old makes her accomplishments even more impressive. But while she's well-known for her musical talents, she has become equally as well known for her sunglasses — which she never seems to take off in public. Why does the talented young star like to hide behind dark shades? Keep reading to find out.
Who Is H.E.R?
There are lots of people who are under the impression that H.E.R was a newcomer to the industry in 2016. That, however, couldn't be any further from the truth. She has actually been singing for the majority of her life, and she was considered a prodigy at a very early age.
Born Gabriella Wilson in Vallejo, CA, H.E.R was introduced to music by her father, who is also a musician. From an early age, it was clear that she was working with some serious talent. When she was just 10-years-old, she started getting a lot of attention after performed a cover of "If I Ain't Got You'" by Alicia Keys on The Today Show. At 14, H.E.R. signed her first record deal, not long after, she released a single called "Something to Prove" under her real name. However, her career wouldn't take off for about five more years.
In 2016, she released her debut mixtape H.E.R. Volume 1. The initials H.E.R stand for "Having Everything Revealed". The project quickly started to generate a buzz, and H.E.R. utilized an interesting strategy to get people talking about her music. Instead of making herself the face of her work, she decided to keep her identity anonymous. When she first started releasing music under the name H.E.R., no one even knew that she was Gabriella Wilson. Her dark sunglasses only added to the allure and people found themselves wanting to learn more about her.
By the time she revealed her true identity, she'd already built a solid fan base that included a wide variety of people from all over the world. Although H.E.R. has since revealed her identity, the sunglasses haven't gone anywhere and they probably never will.
Why Does She Always Wear Sunglasses?
H.E.R certainly isn't the first person in the music industry to wear sunglasses whenever they're out in public. H.E.R.'s reason for wearing sunglasses, however, is very different from what most people have probably assumed.
During an interview with Elle Magazine, H.E.R. explained why she likes to wear sunglasses. She said, "I think it has allowed me to make the music the focus, and for people not to care about the superficial things or who I'm associated with, what clique I belong to—all those things that don't matter. It's really made people focus on the music, and that's what's special about it." What's ironic, however, is that H.E.R. wears sunglasses to maintain her low-key persona, but when she isn't working and doesn't want to be seen she doesn't wear her glasses. This is because she's officially reached the point in her career where she's more recognizable with sunglasses than without.
While talking to Elle, she also added, "I think the pressure is not just on me as an artist. I think it's on everybody. It can be amplified sometimes, with me being under a spotlight. But I just choose to stay true to myself and go against the grain." So far, it appears that H.E.R.'s method is working. Her music easily speaks for itself and she hasn't gotten caught up in all of the distractions and drama that often come with the entertainment industry.
What's Next For H.E.R.?
Even though she hasn't released an album since 2019, things have been going incredibly well for H.E.R. lately. In 2021, she won both a Grammy and an Academy Award. Many people believe that she is on track to become a legend in the game and her track record is proving it.
She hasn't yet revealed when she plans to release another album, but it goes without saying that her fans are anxiously awaiting another project. In the meantime, her latest singles should be able to hold everyone older.
For those who are wondering if she ever plans to stop wearing glasses, the answer is probably not. But, luckily for her, she seems to have a pair for every single occasion.
Tell us what's wrong with this post? How could we improve it? :)
Let us improve this post!