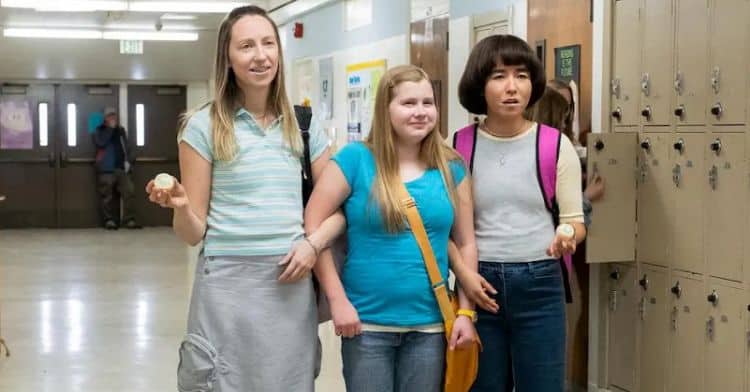 Thanks to the success of the Hulu series Pen15, Ashlee Grubbs and her acting skills have been getting a lot of attention. As a newcomer for the show's second season, Ashlee's character may look sweet and innocent on the surface, but there's much more to her than what we see on the surface. While it may seem like she came out of nowhere, Ashlee has actually been acting professionally for the last five years. She made her on screen debut in 2015 in a TV series called $tripped. She has earned over a dozen roles since then. Now with Pen15 on her resume, the possibilities for her career as truly endless. Keep reading for 10 things you didn't know about Ashlee Grubbs.
1. She's A Singer
Acting has been Ashlee's main focus, but it certainly hasn't been her only focus. Ashlee is also a talented singer who loves to perform covers of some of her favorite songs. She often shares videos of herself singing with her followers on Instagram. She hasn't mentioned whether or not she has plans to pursue singing as anything more than a hobby.
2. She Likes To Draw
Ashlee is a very creative person who has always loved to express herself through the arts. Drawing is something that Ashlee enjoys doing in her free time and she definitely has a good eye for illustrating cartoons and other images. Not only is drawing a great way to get those creative juices flowing, but it can also be a nice method for relaxing and releasing stress.
3. She Loves Spending Time Outdoors
Ashlee's schedule has definitely gotten busier since joining the cast of Pen15, but she still likes to make time to do the things she really likes. She loves staying active and active and one of her favorite ways to do that is to spend time outdoors. She enjoys doing things like going hiking, swimming, and boating.
4. She's A Private Person
Many people in the entertainment industry have become known for willingly letting the world into their personal life. Ashlee, on the other hand, seems to prefer a more private approach. She hasn't share much information about her personal life and doesn't seem to have done any interviews. As her career continues to progress, there's a chance she may decide to share more of herself with the public.
5. She's On TikTok
TikTok has become a huge hit in the social media world, especially among members of Gen Z. Ashlee has decided to get in on the action and she has an account on the platform where she uploads a variety of videos including comedic skits. At the moment, she has 191 followers on TikTok.
6. She Really Is A Teenager
One of the things that makes Pen15 so unique is that the two main characters who are middle school aged students are actually played by adults. Ashlee really is a teenager. An article from Distractify reported that Ashlee is 13-years-old although we weren't able to track down her date of birth.
7. She's Writing A Book
She may be young, but Ashlee is already thinking about what she wants to do in the future; one of those things is releasing a book. In an Instagram post, she shared that she is currently writing a book. She didn't go into any specific details about the book, but based on the hashtags she used with the post it's going to be a psychological thriller.
8. She's A Gamer.
There are a lot of things about Ashlee's life that are completely different from other people her age. However, there are still things she likes to do that are similar to other 13-year-olds. Ashlee loves to play video games and she is the proud owner of a Nintendo Switch.
9. She Likes Cosplay
Being on set isn't the only time Ashlee likes to get into character. She loves to do cosplay and dress up as some of her favorite figures from books, TV shows, and films. Ashlee goes all out on her costumes and has cosplayed some popular characters including the twins from The Shining and Peacock from the Skullgirls
10. She Likes To Travel
Lots of people would agree that they don't have the money or the time to travel as much as they'd like. Fortunately for Ashlee, she's been afforded a lifestyle that has made it possible for her to travel. Even though she is only 13-years-old, Ashlee has already gotten lots of opportunities to travel outside of the United States. Some of the places she's been include the United Kingdom and the Philippines.