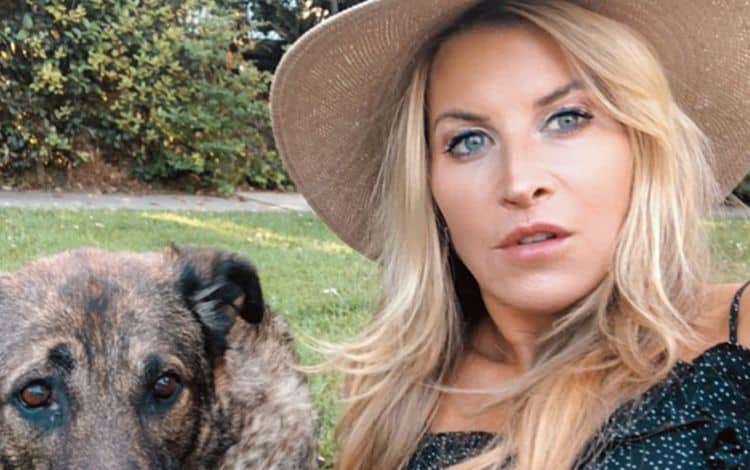 Many of the 'celebrities' of today have fairly lame claims to 'fame'. They are social media personalities, or they have made a YouTube video that got enough views to make them take flight. Some of them were simply in the right place at the right time and landed a miniscule cameo part on a popular television show or movie, and they managed to catch the rocket ship to the moon because of it. Others, however, have actually had enough exposure that many of us recognize them, and not all of that exposure is good.
Allison Dunbar is an actress and social media personality who has been around for a bit, though you may not be at all familiar with her. At least, not on a first name basis, but you may recognize her face. She has been in a handful of shows, but is likely to best be remembered for her role as Sandra Meyers in 2010's 'Castle.' Then she has her social media soapboxes, like so many others today, but as of late she has re-entered the limelight through a bit of scandal, which we'll touch base on in a short while. The point is, Dunbar has worked as an actress, used social media to maintain some level of recognition, and rubbed elbows with other actors and actresses, so she really isn't a newcomer, per se. She just isn't as famous as, say, Meryl Streep or Julia Roberts. No, not by a long shot.
So, since she seems to have appeared out of the shadows of the celebrity world, you likely don't know much about her. That's what we're here for…to bring you up to date. Our efforts have resulted in the piece below, a list of ten things you probably didn't know about Dunbar, if indeed you knew anything at all to begin with. Keeping our readers up to date on the latest is what we do, and what you are about to read is no exception…10 Things You Didn't Know About Allison Dunbar:
1. Birthdate, Birthplace, and Quick Facts from Her Youth
Born on July 31,1972, Allison was born in the state of Delaware. She is 47 years old and has been married one time, which we will expand on further shortly. She was raised in a Christian household, and while in-depth facts about her childhood seem hard to come by, it seems she was raised by both parents, Timothy and Wendy Barron, and has a brother, Christopher. She also has a sister whose name is unknown. Her family originally hails from Ontario, Canada.
2. Marital Status
According to Earn the Necklace, Allison is divorced from her one-time husband, Sean O'Donnell. The couple had one child, a daughter by the name of Ernie. They married in 2001 and divorced only three years later for reasons that are not expanded on in much detail, like most of the information given about the actress to-date..
3. Is She Dating?
Well, the truth is that Allison is not only dating, she is seriously involved with fellow actor, star of 'Hellboy', TV's 'Beauty and the Beast', and 'The Sons of Anarchy', Ron Perlman. Her relationship with Perlman has been the at the center of much controversy due to the fact that Perlman filed for divorce from his wife of thirty-eight years, Opal Stone, to date her. Supposedly Perlman file the paperwork just this month, motivated by his relationship with Dunbar, who co-starred with him in 'StartUp'.
4. Zodaic Sign
Her July 31st birth date means that Allison was born a Leo. According to Astrology.com, Leo women are queenly in their bearings, while her personal style is bold and tends to run on the expensive side, as do her other tastes. They can be temperamental, and are known as individuals that it isn't best to cross. Leo women are also known to 'take anyone down' who threatens their happiness or well-being, no matter what that means (ya think?).
5. Education
Allison attended high school in her home state of Delaware at St. Mark's High School in Milltown. She followed that up with Fordham University at Lincoln Center, located in New York City, where she studied curriculum and instructional design. Incidentally, Dunbar also makes her home in New York City at the current time.
6. Parents of Prominence
Both of Allison's parents are still living, and the couple makes their home in Pennsylvania. Though they are both retired, her father was one of Delaware's deputy attorney generals, while her mother was the dean of Villanova University School of Law in that state. We can't say that her parents didn't place value on education or work ethic! She also has an uncle, Norman, her father's brother, who served as chief deputy attorney general in Delaware. Unfortunately, Norman Barron died of cancer in 2018.
7. She First Starred In…And Then…
Allison's first professional appearance was in the show 'Strip Mall' from 2000 to 2001, 'Quick Draw' (2013), 'StartUp' (2016, with Ron Perlman), and more. Since many of these are virtually unheard of, it really is no surprise we haven't really heard of Dunbar, either, outside of the tabloids, and especially in the last year. But perhaps the future holds more for this actress.
8. Other Relationships
Apart from her marriage to Sean O'Donnell, and her current alleged affair with Perlman, Dunbar posted several pictures of herself and an unnamed 'John Doe on her Facebook page between 2015 and 2017. The pics were somewhat personal, and had an air of intimacy about them, which led her followers to believe that, whoever he was, she was dating him, at the very least. But he was never named, and it is doubtful they are together any longer, with all the publicity surrounding the kiss she shared with Perlman earlier this year and his subsequent divorce filing.
9. Social Media
She is considered something of a social media star by her followers. Active on both Facebook and Instagram, Dunbar is said to have a combined 31k followers on those platforms. While we do know others social media 'stars' who have much, much more, they are typically reality television stars or have their very own YouTube channels. We would have to say that she isn't doing too poorly, considering the fact that none of us can even come close to that number, I am sure.
10. Net Worth
At the current time, Allison's working salary is unknown, though we doubt it rivals that of the big starlets. However, she isn't broke, so the small roles she has taken have managed to take fairly good care of her, though it could, indeed, be better. The actress is said to have a current net worth of approximately $250,000, according to Networthpost.org. I have to tell you, I'd be pleased with a quarter-million dollars, but I'm sure it's sadly lacking in her eyes..
Well, we know that you can honestly say you know more about Allison Dunbar than you did 20 minutes ago, right? Heck, most out there likely had never even heard of her twenty minutes ago! But you have now, and all we can say about it is that it's too bad we don't know her more from her acting that from an affair with a…ahem…otherwise spoken-for man, but that's none of our business. Live and let live, right? Maybe her friendship with the 'Sons of Anarchy' star will get her foot in the door of some projects that will change all that. But for now, I guess it's tabloids and social media for Dunbar! We wish her luck in her future endeavors.
Tell us what's wrong with this post? How could we improve it? :)
Let us improve this post!