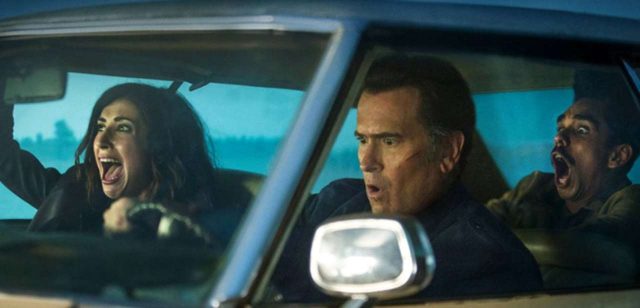 Last week's episode of Ash vs. Evil Dead ended in a huge moment with Ash and his father finally making up right before his dad was brutally killed in front of Ash's eyes before he could tell his son a very important secret. Let's check out the aftermath from this week's new episode, "DUI."
The episode opens with Ash despairing over Brock's death in a way that only he can before the Delta shows back up and takes Pablo captive. In order to save his best friend and Pablo (get it?), Ash take's his friend Chet's (played by Ted Raimi!) car and heads out. We saw a bit of Chet last week, but his inclusion in "DUI" shows me just how great it is that the series is exploring Ash's past through the narrative. All of the characters on Ash vs. Evil Dead are pretty great, but the true star of this franchise is and always has been Ash, and no matter how heavily the rest of the cast is used, the primary focus of the show absolutely must stay on Campbell's most well-known character. As long as it does this without simultaneously undervaluing the other characters, Ash vs. Evil Dead will continue to succeed tremendously.
A development that I'm really enjoying this season is the partnering up of Kelly and Ruby. We all know how great Lucy Lawless is at whatever she does, but Dana DeLorenzo may be Ash vs. Evil Dead's unsung hero. Using Kelly as a surrogate for the audience to learn more about Ruby and her mission is a very clever move by the writers, and it's definitely helping the character progression of both women. The series really does a great job at showing empowered women (with Kelly being the primary example, clearly), and it doesn't get nearly enough credit for its efforts in that department.
I said it a couple of times last season, but Ash vs. Evil Dead seems to work best when it's structured similarly to a comic book (self-contained while still progressing the narrative, few locations in an episode, etc.). "DUI" is another strong example of this structure, as it keeps a singular focus while still clearly feeling like a single entry in a longer arc. It also helps with pacing on the show, and "DUI" sustains wonderful pacing in its brief 23-ish minute runtime. The episode (just like every other episode this season) never drags, but it also never feels too short. The story is told exactly as needed, and no filler can be found here.
"DUI" is yet another strong episode of Ash vs. Evil Dead in one of the best sophomore seasons of any series in television history, and it does a fantastic job of keeping the audience invested in the world that's been built. I can't wait to see what absolute insanity comes next, guys.
What did you think of this week's episode of Ash vs. Evil Dead? Let us know your thoughts in the comments down below!
[Photo Credit: Starz]
Ash vs. Evil Dead Season 2 Episode 4 Review: "DUI"
Summary
Another week, another incredibly strong episode of Ash vs. Evil Dead.