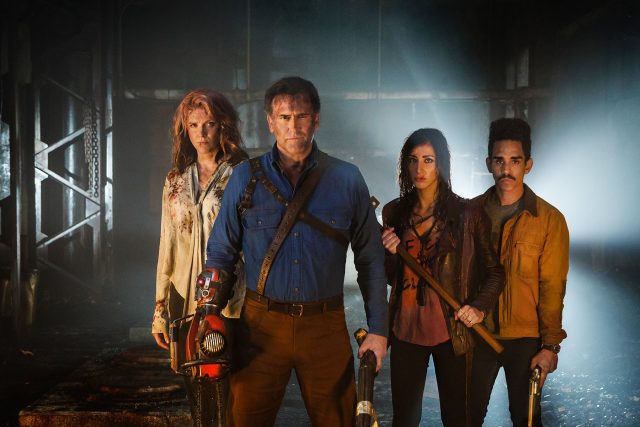 Ash vs. Evil Dead was an absolute blast in its first season, and Starz is banking on the series' success by moving its second season into the much more competitive Sunday night landscape. Let's see if that gamble will pay off by taking a look at the season 2 premiere, "Home."
The season opens with Ruby in an intense battle with some Deadites inside of what appears to be a hospital. She's losing her fight at first (and the series' gore and makeup are ON POINT), but she gets away for a chance to read the Necronomicon, unfortunately realizing that she still needs Ash. While this is an easy way to tie Ash back into the story after his "get out of jail free" card at the end of the first season, it serves its purpose and feels natural, especially once we jump ahead to see Ash living it up in Jacksonville. It seems that this is the life he's always wanted for himself, though Pablo and Kelly aren't as thrilled with it as he is. Kelly, in particular, thinks that it was a mistake to leave Ruby in charge, and Pablo still views Ash as the El Jefe that he is. All in all, our team is in a very different position than they were last year, for better or worse.
Ash's little life is interrupted by an unnatural climatic event that results in the Evil Dead attacking his home. He questions them about the truce that was established, but one of the Deadites tells him that Ruby was the one that sent them. What results is our first fight of the season, and it is so perfectly typical of this show that it completely brings you back into the feel of Ash vs. Evil Dead. It's interesting that a comedic gorefest would be the event that does so, but even that is perfect for this series.
As unlikely as it may seem, Ash vs. Evil Dead is even more over-the-top this season than it was before. It's an odd thing to admit, but I think that Ash vs. Evil Dead is the culmination of the work Sam Raimi created with the film franchise, and this may be the single best entry in the franchise yet (the series, not the single episode). Everything on the show for eleven episodes has worked perfectly, and that includes some things that may not have been at their peak in the films. I'm a huge horror fan, and I've never seen horror and comedy blend this seamlessly before.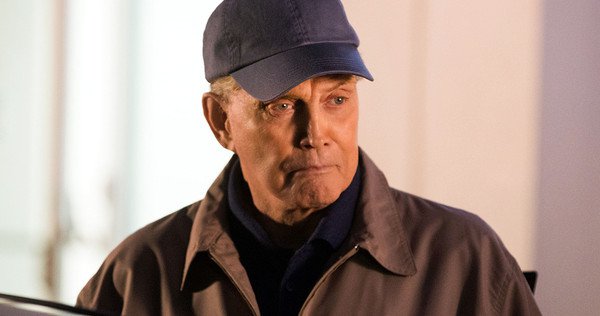 What can be said about Bruce Campbell that hasn't been said a billion times before? He's amazed as Ash Williams since 1981, and it's a character that he's perfected for close to four decades. Just like last season, though, the rest of the cast adds a ton to the series and the franchise as a whole. Lucy Lawless, while still sitting on the periphery of a lot of the action, is an absolute treat to see on screen, and Ray Santiago and Dana DeLorenzo have some of the best on-screen chemistry that I've ever seen on a genre show. DeLorenzo in particular has improved exponentially since the series premiere, and Kelly has easily become one of my favorite characters on the show. In addition to the returning cast, Ash vs. Evil Dead is bringing things to a whole new level this season with its new additions. So far, the highlight is Lee Majors (The Six Million Dollar Man) as Ash's dad, Brock, and it's definitely something special to see Majors and Campbell share a scene. These are two veteran actors who have perfected their style of delivery throughout very full careers, and it's almost like watching a masterclass anytime Brock and Ash speak.
Overall, "Home" was an extremely strong episode of an extremely strong series, and it does everything that a season premiere should do by reintroducing a storyline while wrapping you into a new plot. The cast is better than ever, the action is wonderful, and the comedy is perfect. The episode wasn't as horror-centric as some episodes can be, but, for this series, that's just fine.
What did you think about Ash vs. Evil Dead's sophomore return? Let us know your thoughts in the comments down below!
[Photo Credit: Starz]
Ash vs. Evil Dead Season 2 Episode 1 Review: "Home"
Summary
As fun and over-the-top as ever, "Home" brings you right back into Ash vs. Evil Dead.