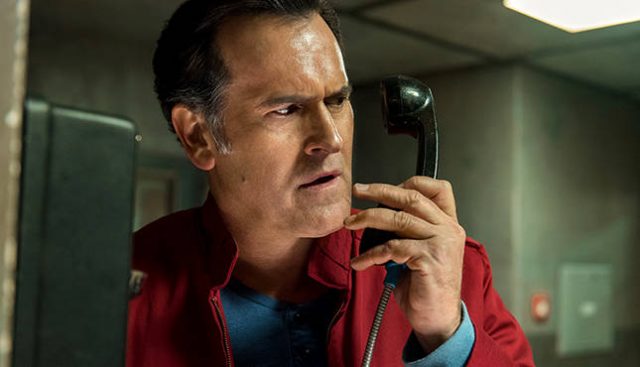 We've made it to the halfway point of this season of Ash vs. Evil Dead, so it's time for the narrative to really take off and drive us to a conclusion. Let's take a look at this week's new episode, "Confinement."
The episode opens as a cop investigates what happened at the bar, but what appears to just be a murderous rampage turns out to be a bit more…demonic as things go on. Before any of our main characters can really get involved, though, Ash is thrown in jail for murder. He manages to get out, but only because the demon has taken the skin of the cop from before and stolen her identity. The whole gang ends up getting brought together at the station in order to fight the evil, and we find out that the demon is Baal, Ruby's ex-husband who is trying to get the Necronomicon for himself.
The episode itself is a pretty fun romp, and, like the best episodes of the series before it, takes place almost entirely in a single location with a somewhat self-contained story. The structure of Ash vs. Evil Dead is easily its best single aspect, and I'm so happy that this thing airs on television. The horror and comedy both receive some pretty equal time in "Confinement," too, and it continues to show how well this show can work when everything syncs up so perfectly.
The acting in the episode is pretty strong, and it's nice to get such a focus on Lucy Lawless' Ruby. As I've mentioned before, she's often both underused and extremely interesting, and this show is well-served by using her in such a major role. The introduction of Baal to both the series and Ruby's story is a perfect way of keeping the narrative going, and I'm very interested in seeing how things keep progressing from here. Joel Tobeck does a very nice little job here as Baal, and the potential for real expansion of the Evil Dead mythology is incredibly exciting.
"Confinement" is, once again, an incredibly strong episode of Ash vs. Evil Dead, and it's really cool to see a series with a sophomore season that is this much better than an already near-perfect first season. Everything about the show, both in front of the camera and behind it, works perfectly for the story that's being told, and it's so very clear that this is one of the most unique series on television. What started out as a vehicle to get Bruce Campbell playing his most famous character every week on television has turned into one of the most fun experiences of the week, and we all benefit for it.
What did you think of this week's episode of Ash vs. Evil Dead? Let us know your thoughts in the comments down below!
[Photo Credit: Starz]
Ash vs. Evil Dead Season 2 Episode 5 Review: "Confinement"
Summary
Another week, another fantastic episode of Ash vs. Evil Dead that introduces a strong new antagonist to the mix.