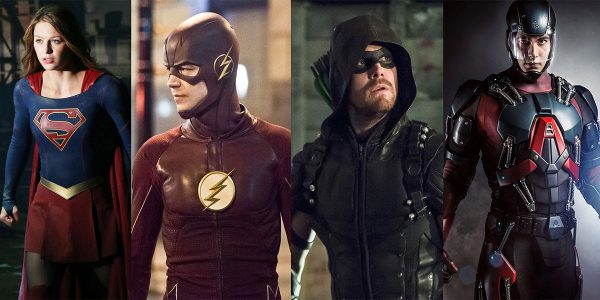 Berlanti Productions and the CW superhero shows returned to work this week to prepare for SDCC, I mean the fall season. Neither the production company, nor the studio, have released and official set photos, press releases or statements from showrunners, writers or producers. No worries fans! The stars, and crew are Tweeting and posting photos to Instagram. Will Kevin Smith return to Supergirl? Will The Flash give Iris and Wally their brother/sister crime fighting unit in the main story? Follow me and EW as we take a look at some of these posts and see what clues, hints and spoilers we can gain.
Arrow
Here's an Arrow set photo of David Ramsey. Mr Ramsey plays a key member of the supporting cast on The CW's Arrow. His character John Diggle (aka Spartan) started as Oliver Queen's driver and body guard. Over the course of the show he has evolved into a key confidant, supporter and fellow masked vigilante. Diggle also remarried Lyla who is now the Director of covert organization ARGUS and the mother of his child.
In the Arrow season finale a few weeks ago, a last second, massive explosion put the lives of the nearly the whole cast in jeopardy. Is this set photo a clue that Diggle/ Spartan survived? If Digg's middle name were Stewart, the show could have given him a Green Lantern ring and been done with it. But that's not the route the producers took, instead creating the Spartan identity with its attendant human frailties. John Diggle could have died in that explosion. Did he? Wait till SDCC, or tune to the CW in October to find out!
The Flash
https://twitter.com/KeiynanLonsdale/status/882315921557245953
Here's some kind of spinning gadget with Flash symbols as well as stars Mr Lonsdale (Wally West/ Kid Flash) and Candice Patton (Iris West). Last season we saw better character development for Kid Flash than we did Iris. Kid Flash went from sole protector of Central City during the Flashpoint timeline to nearly replacing Barry Allen as the fastest man alive in the main story. Iris got to be member of the Team Flash support staff in Star Labs and then did a lot of sitting around, looking glum while everyone else tried to figure out how prevent her death at the hands of season villain Savitar.
Mr Lonsdale's caption suggests the brother/sister crimefighting unit seen previously in Flashpoint may be revealed in the main timeline. Here's hoping the producers of The Flash give both Iris and Wally something meaningful to do this season. Ms Patton deserves some challenging acting. Fans want to see Wally's heroic journey. Iris truly deserves some meaningful character development.
Supergirl
Supergirl star Melissa Benoist put this photo on Instagram. We see Ms Benoist in costume, hair and makeup as the titular heroine surrounded by greenscreen and crew members. Yes, it's good to know that Ms Benoist will be back in her wire harness for some highflying hijinks. But look who's off to the right. Yes, fans, that would be none other than Kevin Smith.
Mr Smith and Berlanti Productions haven't gone on the record yet regarding this set visit. Mr Smith could be there just taking a look and visiting, because he can do that. (Kevin Smith is the guy J. J. Abrams let walk around on the Millennium Falcon set during production of Star Wars: The Force Awakens. Mr Smith is welcomed nearly anywhere in sci-fi or superhero productions) Or maybe he's there as a consulting producer or even directing. We don't know any of that. Yet. But he's there and Mr. Smith is the creative force that brought us Jay and Silent Bob as well as Dogma — and some of the most memorable episodes of Supergirl (and The Flash). So, fans can look forward to Mr Smith's continued creative partnership with Berlanti Productions and the cast and crew of Supergirl (and hopefully, The Flash, too).
So, yes, we know there's some exciting story telling just over the horizon for these characters and shows in the fall season. But who are we kidding? They're all taking a break in a couple of weeks for San Diego International Comicon. This writer, Wake and Nat Berman have all reported on what's going to and skipping SDCC. And you can look for coverage on this site. Supergirl, Arrow, Legends of Tomorrow, The Flash and Black Lightning will all be featured at SDCC and they'll need to have some scenes in the can to show the fans. So, let's be real for a moment, the next two weeks of production on these fan favorite shows is as much about getting the material to hype at SDCC as it is about preparing the next episodes for the fall season. Stay tuned to TVovermind.com for continued coverage.
Save
Tell us what's wrong with this post? How could we improve it? :)
Let us improve this post!