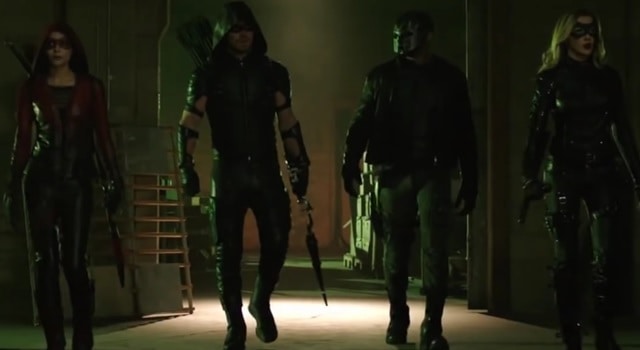 After a long season of countless speculations and guessing on who would end up in the grave that was presented in the flash-forward at the beginning of the season, Arrow delivered its most emotionally charged episode of the entire series as we witness the death of one of the show's most beloved characters.
As usual, let's get through the flashbacks briefly: while it was impressive to see Oliver and Taiana get a win for once in a very long time, the flashbacks continues to lack effect due to the limited time each cutaway to them is. At the same time, knowing that this was the episode that would mark the end of one of the main characters, was it really necessary to have the flashbacks in this episode? I get the parallel element as we learn more about the idol as Reiter and Darhk are both using the same one. However, it didn't really add anything to the episode as they could have easily featured this in a later episode in a few weeks because this just took up unnecessary time, especially for the character that we lost. One can only hope that they are saving the best for last in Season 5 because the quality has really faded away of this storytelling for the show.
The B-plot with Diggle and Oliver having their disagreements about where Andy's loyalty was is where parts of this episode really started to fall apart as it becomes a direct result of the death. The problem this show tends to have with character development for some of their characters is that sometimes they get easily erased and this is what happened here. Diggle became the Oliver from previous seasons as Oliver took on Diggle's role for once as the voice of reason by warning him that Andy can't be trusted. Yet, Diggle had to be written as someone that just back-tracked on everything he has said before about situations like this. I respect Diggle's comment about Oliver's view so many episodes ago where he said that Diggle should give Andy another chance. But yet, it all falls apart, which leads us to the most painful part of the episode.
Laurel gets the offer by Mayor Adams to become the new district attorney, despite it coming from Darhk's wife. I don't how to feel on how much they went back and forth on that aspect whether she was going to take it or not. The biggest theme of this issue, which was such a beautiful character struggle, was Laurel not wanting to give up being the Black Canary by taking the promotion. However, I don't understand why Oliver would encourage one of his closest friends to take an offer that comes from the big bad's wife, just because he felt that the city needed "a hero without a mask". The moment she says "one last time" and picking up her mask, was the beginning of the heartbreak, but for many different reasons. A showdown takes place in Iron Heights as Team Arrow tries to stop Darhk from escaping and gaining his powers back.
We get some really neat action scenes, especially from the female heroes, both in the Arrow Cave and in the prison. While I wish I had more to say about Thea's war with Malcolm, there is not much to say other than that Malcolm Merlyn needs to be done on this show as soon as possible, despite how much I admire John Barrowman as an actor. It was encouraging though to see that our beloved Speedy is letting go of that love for her Devilish father, but just not enough. But sadly as our big bad for the season has the biggest luck in the world, he regains his powers and decides to execute his promise to Quentin as he strikes the Black Canary with Oliver's arrow. Before we go on to the final moments of the episode; it was incredibly disappointing that not only was Laurel the one to go, but she didn't get a final heroic moment, a big moment as the Black Canary.
Her final moment with the team where they are all shaken up was one of Katie Cassidy's many amazing performances in the episode and more than just difficult to watch. The emotions and speech she gives to the fellow members how much it meant for her to be the Black Canary and a part of this family, reminds us what a tremendous actress Cassidy is. We get to her last moment with Oliver where the scene works, but also at the same time feels like a major disservice to this character. While we do get a beautiful acknowledgement of the romantic history between Laurel and Oliver, there is a problematic factor in the scene. I have stated in the past the issues that I have with Felicity as a character, and I don't want to make this into another segment where we bring up again how much this show focuses on her. However, was it really necessary to let Laurel's final moment with Oliver, have a piece of dialogue where Felicity is brought up? Was it important that Laurel needed to encourage Oliver to find his way back to her?
It truly wasn't and that is where the death not only is heartbreaking and unfair, but also a disservice to this character that has had to fight through way too many obstacles on this series. I respect Laurel's acknowledgment to Oliver that while she may not be the love of his life anymore that he would always be hers. I desperately wish that their final second hadn't been another mystery aspect where Oliver makes a promise to her that we don't get to hear. The scene where she flat lines and passes away still feels like a dream and like something that shouldn't have happened which takes us to my final point of this episode: should this character really have been killed off?
I respect the element of wanting to be shocking and impacting, which is the key to killing off television characters and I will always acknowledge that. The show has teased several times this season that any of these characters could have been axed off, but there is a difference with killing off the Black Canary and anyone else on the show. It's a fact that the character has been underutilized throughout the series' run as Laurel has since the middle of Season 2 fought all sorts of demons, overcome several important struggles, like the death of loved ones and her alcoholism, as she became this iconic hero. But the problem is that, unlike the other characters on this show this season, Laurel was never given an opportunity to have a big storyline. Yes I'm aware that we spent three episodes with her bringing back her sister from the grave, but in the end, it was just to setup Sara for her departure as she was heading to DC's Legends of Tomorrow. Besides that, she didn't get much else until the final episodes leading up to her death in this week's episode.
This is just an opinion and in no way an attack on the show itself: if you are going to kill off someone as essential as the Black Canary, one of the imperative characters in the Green Arrow mythology, then you need to give the character his/her fair share of focus where the character gets to take central stage for themselves, not just to assist someone else's storyline or character. Three words can only sum up my thoughts on the killing of Laurel Lance/Black Canary. Heartbreaking, for Cassidy's superb performance, tragic, because of how this all came to an end and finally, disappointing, as this is a character that didn't deserve a fate like this.
The Black Canary was in many ways one of Arrow's big hearts and seeing the show losing that character, makes the series lose a lot of its remaining magic. Despite the way the death was handled and was part of Laurel's final moments, "Eleven-Fifty Nine" was an emotionally powerful episode that is sure leave a major effect on the rest of the series as Cassidy will be deeply missed on this show. While this is the end of the Earth-1 Laurel Lance…maybe the Earth-2 version on The Flash, may follow a similar path like the comic book version. Whatever happens, this beautiful and empowering hero, who was always trying to save the world, will be missed.
Arrow returns with all new episodes on Wednesday, April 27 with the 19th episode at 8/7c on The CW.
[Photos via The CW/Warner Bros. TV]
Summary
The biggest question of the season is answered in this week's Arrow as we witness the death of one of the series' beloved characters.