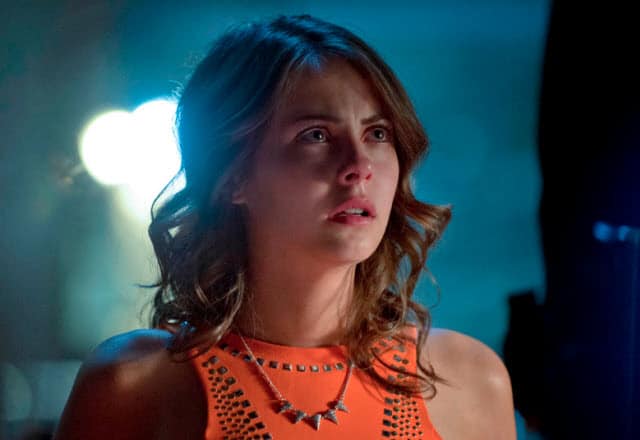 One of the characters that has been having it rough for the past two season is Oliver Queen's little sister Thea Queen, (played by the talented Willa Holland) or now known as Thea Queen-Merlyn as it was revealed last season on CW's Arrow that she is in fact the daughter of Malcolm Merlyn (John Barrowman).
Last Saturday afternoon at San Diego Comic-Con, TVOvermind was able to participate in roundtables with Arrow and we got to ask Ms. Holland about what is coming up for her as she is going to be spending a lot of time with John Barrowman's Malcolm Merlyn this season. These are the questions we specifically asked at the roundtable.
TVOvermind's Andy Behbakht: Let's talk about Thea's arc this season: is this necessarily her going dark or do you think that in a way this is one way for her to grow up?
Willa Holland: She is definitely maturing a lot, I think that everything that has happened to her in the last six episodes of season 2 were pretty much tormenting to say the least to this poor girl.
I think that she has come to this place where she is over having these things happening to her life and she is going to do whatever it takes to make sure that doesn't happen to her ever again. To the point where she has no more heartbreaks or pain, in a way that means she is maturing in a sort of way that I can't really describe! [laughs]
TVO: Is Thea completely comfortable around Malcolm or is she sometimes reminded that this guy killed over 500 people in the Glades?
Holland: Oh yeah! This is the way I think Thea's head is at it right now: I feel like, especially in the last six episodes of season 2, all that continuously happened to her and that she has always very much been based on is a value of trust.
It's just continuously been broken and broken and broken, like every person in her life that she has loved and cared for [has done that]. I think when the way that she looks at Malcolm, I mean of course at first he is a petrifying mass murderer, but at the same time, he hasn't lied to her.
He has not given her any reasons to not be trustworthy, actually, other than the fact that he might kill her, but he is not going to do that because he loves her and she is his daughter. I think that's kind of a little safezone that she knows that he is not going to kill her!
At anything, Malcolm is probably right now the only person in the world that she actually feels she is hearing the truth from right now. So yeah, it's a very interesting dynamic for us to play around with.
TVO: Does Thea feel at this point that she wants to have a parent figure and is that maybe why she trusts him so much?
Holland: Thea just wants to feel like she is OK, I think she just wants to feel like she is OK finally as well as that she is not alone and that somebody is there to take care of her.
Arrow kicks off its third season on Wednesday, October 8, 8/7c on The CW.
[Photo via The CW]