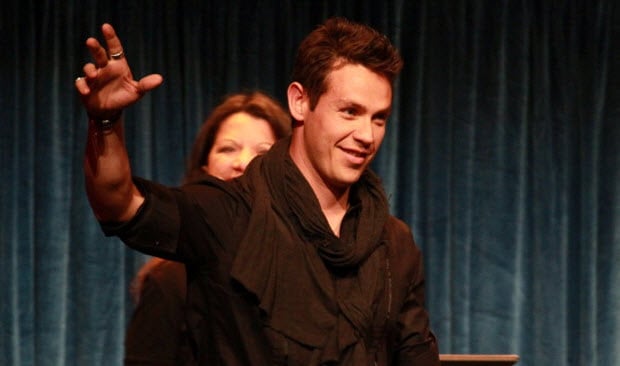 One of the strongest additions to Arrow's second season has been Kevin Alejandro's Sebastian Blood aka Brother Blood. While he may be working for Slade, he has been able to be a strong antagonist on his own and last night's episode. Just like Dylan Neal's Ivo, he is slick and intriguing to watch week after week.
Laurel has had a very rough season this year and has received both some fair as well as unfair criticism. Throughout these past couple of episodes, the writers have shown that this is a character that they are going to break down so that when she rises, she will be stronger than ever. While the writing can be questioned for Laurel, Katie Cassidy has always been on her A-game this season. But her performance last night was one of the most heartbreaking that this show has had, especially for that character.
While the journey for her hasn't started yet, it was great to finally see the beginning of the end of Laurel's tragic and painful situation. It wasn't really a surprise that Laurel got fired because in a way, this will allow the writers to start setting her up on a new path that may include fishnets. Regardless what they have in store for her later this season, one hopes that she will find a bit of happiness.
The only problem with this episode was the island focus which is usually one of the msost intriguing parts of the episodes for several reasons. While there was nothing wrong with either Amell's or Lotz's performances, their conversation wasn't just that interesting, which can be said about Ivo's chat with Sara.
Perhaps it was because Slade wasn't there, but regardless, it didn't lower the quality of the episode by any means. However, they could have skipped that scene this week and perhaps included something else for the present time.
The biggest question there is about Bex Taylor-Klaus's Sin right now is why hasn't she been promoted yet to a series regular? Just like Felicity, Sin is a great comedic character who fits with Arrow so well and it's great that they added a character like her to the group of the younger characters.
The writers have really succeeded in giving Roy one of the best storylines of the season through him getting injected by the Mirakuru. While it was intense to see how violent he was (which was a good parallel to Slade's behavior last week), the end result was what mattered which was Roy realizing that his new strength may also be his biggest curse.
His relationship with Thea is also something that one really appreciates. Instead of having a girlfriend breaking up with him, Thea was 100% supportive as she was trying to do whatever she could to help him.
Even though Slade wasn't featured in the flashbacks, he was in the present and despite having seen the costume in the trailer after last week's episode, it was still a huge fanboy moment to see the Deathstroke 2.0. costume. It looks a lot like the Batman Arkham Origins version of the Deathstroke costume, the mask in particular. The costume department deserves big props for their amazing work because this is one of their best costumes that they have done. One would pay anything to get that mask.
The last scene between him and the Arrow made one even more excited for their relationship. One of the great aspects in the Green Arrow comics has always been the relationship between those two so to see that coming to life in a live-action show is incredible.
Overall, aside from the island scenes this week, "Blind Spot" was another great episode which was directed by the phenomenal Glen Winter. Writers Wendy Mericle and Beth Schwartz did a great job with the writing, especially for Laurel.
It was good to see so many storylines progress even more and judging by the looks of the trailer for next week's episode, Arrow is continuing to hit all the right places this season. And once again, because it can't be stressed enough, that mask was just epic.
Arrow airs Wednesday nights, 8/7c on The CW.
[Photo via David Livingston/Stringer]