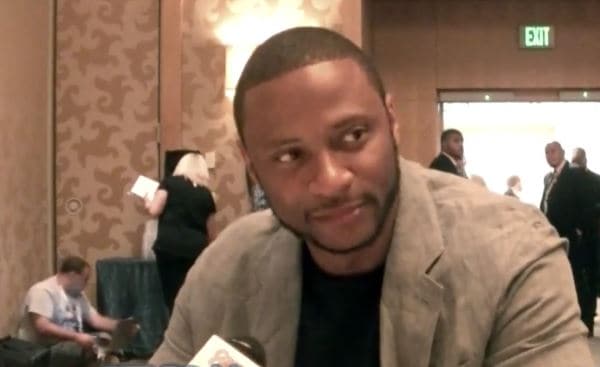 One of the biggest shows on The CW and one of the biggest ones in the comic book television genre right now is Arrow, and one of the breakout characters of this show was the original creation that is John Diggle (played by David Ramsey), who is one of Oliver Queen's (Stephen Amell) most loyal allies. From the beginning, Diggle has always been Oliver's voice of reason, someone that is always willing and trying to bring him back, even when he thinks he's lost, which was a big part of their relationship in Season 3.
Last weekend, TVOvermind was fortunate enough to participate in the Arrow Press Room with other news outlets at roundtables where stars and producers from the show discussed what is coming up in Season 4. Ramsey was one of the people we got to talk to and you can watch the entire roundtable of him in the video below. Here are some of the highlights from the interview:
When asked about how the repairing of Oliver and Diggle's friendship is going to be like in Season 4: "They are going to get married [joking]. That would be interesting. They are going to be taking a little bit of time. Both of these guys are alphas and both strong, but Oliver Queen for three years has been doing this on his own, even with a team, he gears off into his own. With a man like John Diggle, who is all about team and the unit, it just doesn't sit well. This time, after Oliver Queen kidnapped his wife, left his child at home, and decided to trust Malcom Merlyn, who is a known psychopath, before he trusted his team, that's just a straw that broke the camel's back to Diggle. It's going to take a little time for him to get in, but eventually it will. The bromance will continue, if you give it some time."
What it is like for Diggle to be the leader of the new team of the Starling City heroes: "In 4.01 [titled "Green Arrow"], Diggle – de facto the leader of the team – Speedy, and Black Canary are the team, and they are a well-oiled machine. You are going to see that right at the beginning, even without Arrow. It's a very good piece of writing, because we are doing it even without him, so why does he have to come back? That's part of the story of 4.01."
Did Diggle feel that Felicity did the wrong thing by leaving the team and Starling City with Oliver: "That is interesting because we are going to have something very interesting to say about Felicity in 4.01 as well, and that question will be answered, I can't give that one away; that's a big reveal. The quick answer to that is no. I think the answer to that is no, but there is a little twist in terms of what is happening with Felicity at the top of Season 4."
Arrow Season 4 begins on Wednesday, Oct. 7, at 8 p.m. on The CW. Stay tuned for more roundtable videos of the cast and producers in the next few days right here at TVOvermind.
[Photo via YouTube]
Tell us what's wrong with this post? How could we improve it? :)
Let us improve this post!