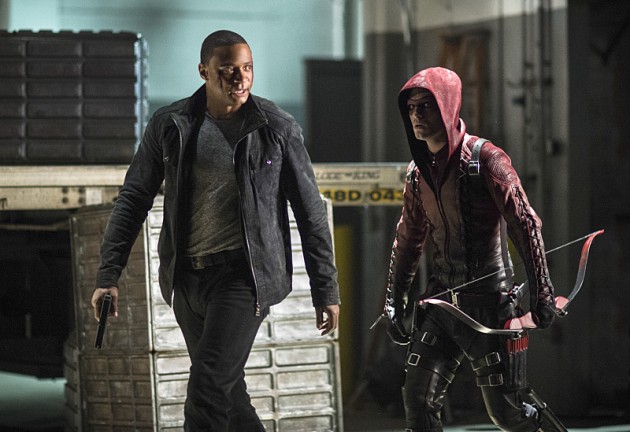 The granddaddy of all DC TV shows finally made its return last night on The CW, as Arrow came back from its winter hiatus, with fans still reeling over the major cliffhanger at the end of its mid-season finale: the death of Oliver Queen (Stephen Amell).
This was one of the more mixed episodes of the season for me. "Left Behind" deals with the other members in Team Arrow learning that Oliver had been killed by Ra's al Ghul after he lost their duel,, and we see them having to deal with it in their own ways. As tragic as Oliver's death is/was (more on that in a bit), this is a very appealing thing for the show to do because we saw the show's supporting characters getting to shine a lot more last night.
While we have seen quite a lot of character development and steps being taken forward, not having the main character around actually allowed this to be done even more effectively. While I didn't have a specific favorite — mostly because it was hard to pick just one -, I do have to give some well-deserved praise to Emily Bett Rickards' Felicity Smoak as she showed strong leadership in the position she was. It makes sense for Diggle, Roy, and Laurel to go to Felicity as their leading voice with Oliver now gone. I also enjoyed her interactions with Ray in this episode and her concern for him wanting to go out and help the city. Also, this was my favorite Ray episode as of yet because of that scene where he got upset with Felicity for using his dead fiancée in their conversation. This was turly Felicity's "breakdown episode," and I expect each of these characters will probably breakdown in their own ways in upcoming episodes.
One storyline that has been discussed for a long time, ever since it was revealed that it would truly begin in "Left Behind," is Laurel's debut as the new Black Canary. I was expecting to see more of Laurel in the costume, as I had speculated after the winter finale that the winter premiere would do a time jump. However, I enjoyed the little, yet big thing we got to see at the end when she decides to suit up and take out two of Danny Brickwell's (Vinnie Jones) men. Laurel was genuinely very good in the episode overall.
Speaking of Brickwell or "Brick," who is a famous Green Arrow villain from the comic books and someone that I have wanted to see on the show for a long time, it was perfect casting getting Vinnie Jones to play him, because he typically does a great job with "tough guy" characters like this. I'm not sure, though, how to look at this version of Brick, because it seems that he is somewhere between his comic counterpart (where he has a very stony skin that makes him invulnerable) and new, more modern version of him. I think that more will be revealed more as we see him over the course of the next two episodes.
Now, let's talk about the big elephant in the room that is Oliver Queen and what happened to him in this episode, both in the present and in flashbacks. Maseo ends up being the one that saves Oliver and brings him to Tatsu, who is revealed to be still be alive after the incident in the winter finale's flashbacks. Now, sadly enough, the Lazarus Pit is, according to Stephen Amell, not what was used to bring Oliver back to life, which, quite frankly, is a major disappointment. While I love that Tatsu is somehow even more mysterious now and that Maseo did help Oliver after all, I don't like that they only had him dead for just one episode. I was actually looking forward to the possibility of having a world where Oliver Queen was dead for a number of weeks. This decision didn't make much sense to me from a story perspective, because it would have meant more if Oliver had stayed dead for at least two to three episodes. Not knowing if he was still alive or not would have been one of those plots that you would want to have as a mystery for a while.
It's going to depend heavily on what happens next in these upcoming episodes, but the longer Oliver is gone from Starling City, the better. And, for the record, that is not me saying that I hate the character; of course, I love Oliver. However, I want these other fantastic characters to get the chance to grow without him. Overall, this was a weaker winter premiere than I wanted to see, one that I found, in a lot of ways, unsatisfying.
Arrow airs on Wednesday nights, 8/7c on The CW.
[Photo via The CW]