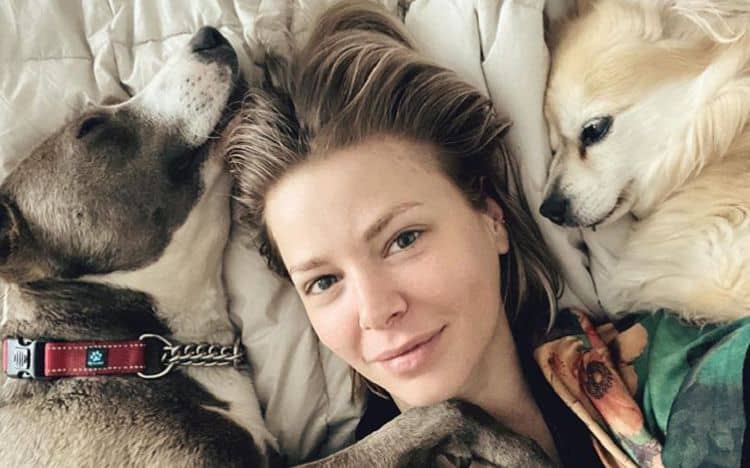 Ariana Madix is an actress, model, television personality, and author. She is probably best known for being one of the current stars of the Bravo reality television series 'Vanderpump Rules'. The television personality, who is originally from Florida, is also known for dating her co-star Tom Sandoval. The couple lives together in San Fernando Valley. Although people who watch this series may know a little about her, there are still many facts that people do not know about this woman. Here are 10 things that you probably did not know about Ariana Madix.
1. She Endorses Several Brands
Not only does Arian Madix make money from her television appearances, but she also makes money thanks to having a huge social media following. Ariana Madix endorses several brands on her social media accounts. Theses are predominantly beauty and wellness products. Madix has also partnered with several brands, including DIFF Eyewear sunglasses, Daniel Wellington watches, and Teami Blends teas.
2. She Was in Season One of 'Vanderpump Rules'
Ariana Madix was a recurring cast member in season two of 'Vadnderpump Rules' before being promoted to one of the main cast members for season three onwards. What many people do not realize, even if they are avid fans of the series, is that she also appeared in season one of the reality television series. In season one, there was an episode that showed cast member Scheana Marie Shay trying to become a pop star. As Madix is a friend of Shay's, she acted as a backup dance for her performance. Madix was not made a cast member until she started working at Lisa Vanderpump's restaurants SUR and Villa Blanca.
3. She is a Talented Equestrian
According to Bustle, Ariana Madix has had a lifelong love of horses and she is a talented equestrian. She is a talented equestrian who has taken part in and won many equestrian events. This is an ongoing passion as she still spends time with her horses and competes, despite her busy schedule. She has posted about winning various equestrian events on social media. In addition to competing in equestrian events, she has also competed in two national dance championships.
4. She Loves One Direction and Britney Spears
A guilty pleasure of Ariana Madix's is that she loves listening to pop music from the 90s, and one of her favorite singers is Britney Spears. She often posts gifs relating to the pop princess on her social media pages and she has even referred to Britney as Godney. When Britney Spears released her last album 'Glory', Madix admitted to preordering the album online. Madix is also a huge fan of One Direction, and she was lucky enough to meet Harry Styles. She took a selfie of them together and posted it on her Instagram account. Another artist that she is a fan of is Drake.
5. Madix is a Cat Lady
Not only does Madix love horses, but she is also a lover of cats. She is a huge fan of cats and often posts pictures of them on her social media pages. She even buys cat-related accessories, such as a phone cover featuring a cat.
6. She is Friends with Bobby from 'Below Deck Mediterranean
Madix is friends with many people from television, especially those with whom she appears on 'Vanderpump Rules'. She is also friends with people with whom she has appeared on other television series and films. What many people do not realize is that she is friends with Bobby from 'Below Deck Mediterranean' and this is despite them never having appeared on television together. They met when they attended high school together.
7. She Once Worked as a Disney Princess
Before she was famous, Ariana Madix worked at Walt Disney World while she was at Flagler College studying for degrees in theater and broadcast communications. During her time there, she dressed as many famous Disney princesses. Some of the princesses she played include Cinderella, Aurora, and Ariel. She is also dressed as some Disney characters other than the princesses, such as Chip and Dale. After she graduated, she left Walt Disney World and moved to New York City.
8. She Has Had Roles in Eight Films
Although she is best known for being one of the main cast members of 'Vanderpump Rules', Ariana Madix has appeared in eight films. Her first role was as Jackie in the 2008 short film 'Swing Vote: What Side Are You On?'. Between 2010 and 2012, she had small roles in five films including 'Working It Out', 'Killer Eye: Halloween Haunt' 'The Dead Want Women', 'Reparations', and 'Attack of the 50 Foot Cheerleader'. In 2018, she played Raine in the film 'Dirty Dealing 3D'. Her most recent film role was as Amanda in the 2019 film 'Dead End'. Madix also played another character called Amanda in the television film 'LoveFinder' in 2011.
9. She Enjoys Snowboarding
In her free time, Ariana Madix enjoys spending time outdoors trying fun activities. One of her favorite activities in her free time is snowboarding. She hits the slopes with her friends whenever she can, and then uploads photographs online to show what a great time they have had together. This may not surprise people who have seen her on 'Vanderpump Rules' as she comes across as a very active person on the series.
10. She Has a Huge Following on Social Media
Madix has a huge following on social media. On her Instagram account, she has 1.2 million followers. Not only does she use this account to endorse products, but she also posts photographs of herself having fun with friends and colleagues. She also has a large following of 265 thousand on her Twitter account. She has been a member since August 2009, and currently uses her Twitter account to promote her book, 'Fancy AF Cocktails'.
Tell us what's wrong with this post? How could we improve it? :)
Let us improve this post!