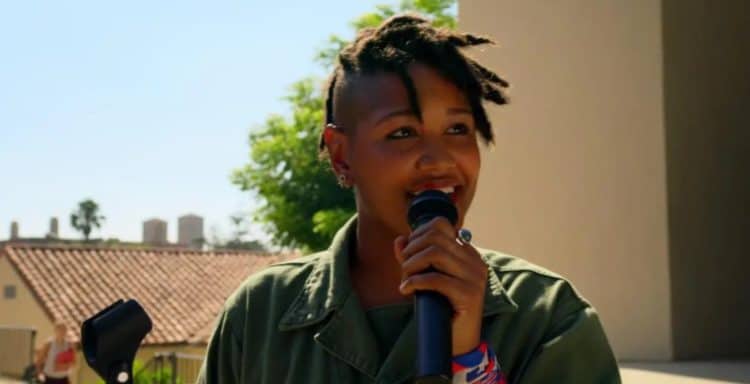 When Homeland Security employee Rahne Jones decided definitively to become an actress, she didn't get wishy-washy on the topic. Instead, she simply quit her job and moved to New York to pursue the dream. After a handful of community theater stints, she landed the role of Skye on the Netflix original series 'The Politician'. With that accomplishment stuffed firmly in her pocket, Rahne has set the groundwork for herself in the entertainment field, since the show has garnered enough viewers to gain her the popularity she needs for future success. But what is known about this somewhat elusive actress? Not a lot, so in an effort to get to know her a little better, we decided to share some of the personal facts about her life with you that are available. Maybe you have quickly become a huge fan and are already checking her out on Instagram, or perhaps this is the first time you've read or heard anything about her. Either way, the following ten facts will hopefully give you a jump start on this promising actress.
10. Her short stint with Homeland Security just wasn't satisfying
Most enter into their careers with excitement, eager to make a difference in the world, or at least in the business, in a significant way. Rahne only worked for the government agency for four years, which tells us that she simply wasn't into the work she was doing. According to the actress, she simply 'couldn't do this' anymore. She left the job and pursued acting, which also conveys passion. It takes a lot of guts to uproot and chase something that is so hard to succeed at for most, so we know she has guts as well. Though she states that the work she did for Homeland Security's Office of the Inspector General was very rewarding, her desire to act had a much stronger pull. Obviously the decision has started to pay off for her, and fans are glad.
9. She is college educated
We don't know much about her educational background, but we can tell you that she has a bachelor's degree, so the actress is educated. This indicates an ability to stick with a project she loves, so I expect that we will see more of Rahne in the future. It would be interesting to know what she majored in, but with her being so new on the scene there is still much that is unknown about her.
8. How does she feel about her character, Skye?
Skye, according to Refinery 29, is very opinionated and bold, and the character is much like Jones herself. If appearances were enough to base opinions on, we would have guessed that, as she seems to be the type of woman who isn't afraid to be herself, and that quality is a breath of fresh air in a world full of clones. As for how she feels about the character, she seems to like her, and is very comfortable playing the role even though Skye is a high school student who is younger than she actually is.
7. Is 'The Politician' expected to be around for long?
According to Celebrity Siren, Netflix is going to run the show for five years (this is their intent, anyway). So, fans will be happy to know that, barring any unforeseen misfortune, they will be able to watch Rahne for several years to come. It will be interesting to see how the students' lives on the show will play out, considering the fact that high school is normally only four-years in length.
6. She is a huge fan of Ryan Murphy, Brad Falchuk, and Ian Brennan
Rahne says that working on 'The Politician' is like a surreal dream, and attributes that sensation to the fact that she is not only a fan of screenwriter/director/producer Ryan Murphy and company, but has also been able to see everything they have worked on, from 'Glee' to 'American Horror Story' and more. It seems the man has earned her admiration, and working for him is lik e a dream come true for the fledgling actress.
5. Is she currently in a relationship?
According to Romper, Rahne has her hands full when she's not working on 'The Politician'. As it turns out, she and her girlfriend Bridget have been together for three years and just recently got engaged. You can check out her social media page on Instagram to get more information, but sources say that photos of the couple are adorable, and that the pair go together very well.
4. What about her family?
By all accounts Rahne is close to her family, and while they are very proud of her, they are somewhat dumbstruck by both the fame and the people whom their daughter is rubbing elbows with lately. As for siblings, Rahne is so new to the public eye that there really isn't any available information to clarify whether she is an only child or not. We can tell you she was born and raised in the good old USA, and that her parents wholeheartedly support her decision to become an actress.
3. On Rahne's prior acting experience…
Well, the truth is that there isn't much. When she quit homeland security and moved to New York, she claims she had no idea what she was going to do; she simply needed a change and took the steps to make that happen. She did get involved in community theater, and it is reported that she had other 'small gigs', though we don't know what those were. It was a major case of being in the right place at the right time when it comes to her landing the role of Skye on 'The Politician', and no one could be more grateful for that than Rahne herself.
2. She's a newbie amongst a flock of seasoned performers
There must be times that she feels a bit overwhelmed by her co-workers, considering her short time in the business. January Jones, Jessica Lange, Bette Midler, and Gwyneth Paltrow are among them, to name a few. But Rahne seems to be more starstruck by director/producer Ryan Murphy than any of her fellow actors. But we are sure she holds them in esteem and is open to every last lesson on acting that she can learn from these wonderful professionals.
1. How old is she?
Again, there are no specifics, not even regarding the day of her birth or the month. One source says she is at least 24, while another guesses her to be around 30. You can be that as time marches on more information will fill cyberspace regarding the rising star, but until then, patience is a virtue. We will just have to wait it out and continue assuming that she is likely somewhere in her twenties. She does play a high school student, and her youthful looks help, so we know she isn't ancient.
While scant, the above is about as much information on Rahne as can be found. Sharing it with you is what we do, and as we learn more about this actress, I'm sure we'll fill you in. Until then, check out what the buzz is all about when it comes to Rahne Jones by watching 'The Politician' on Netflix. We're sure you'll enjoy it as much as we do!
Tell us what's wrong with this post? How could we improve it? :)
Let us improve this post!