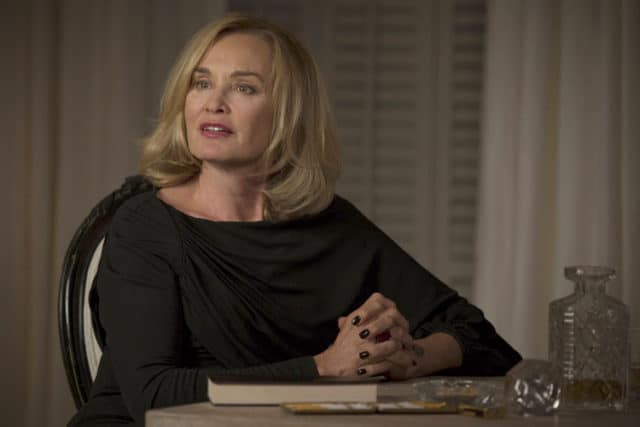 Jessica Lange is an American actress that has been entertaining us for decades. She's made the rounds in a variety of film genres and has been fortunate to escape the curse of being type cast. She's good in whatever role she accepts, but some of our favorite characters have been those from scary movies. Here are five memorable Jessica Lange "American Horror Story" scenes.
Jessica at her best
These clips show Jessica Lange in a few of her most frightening and menacing scenes from "American Horror Story." We clearly see how the actress takes command of the scenes and uses her dark side to move the scenes and overall stories forward. Sweet little Jessica can have a real potty mouth. In addition, she can muster a coldness that makes the hair on the back of your neck stand up. Here are the reasons why it's not a good idea to cross her.
Constance in the finale of season 1
Constance Langdon delivers a monologue that tells viewers who she really is. She shares what she truly wanted out of life. It wasn't the terror and misery that she's endured and inflicted on others, it was being a star of the silver screen. She talks about being "destined for greatness" and how she is being prepared for something truly great because of the "fires of adversity" she has gone through. The scene is a bit chilling as she goes on about how the horror that surrounds her are all a part of a master plan to make her who she is supposed to be.
Fiona Goode and The Axeman
This scene shows Lange as Fiona Goode, remembering back to the good times that she had with the Axeman. It is touching as it switches back from her stoic reflections to what took place in another time. The love, laughter and romance, then the bad times with the fighting and Jessica shedding tears as she thinks back over the romance. We see a human side of her here and know that there is a vulnerability that is generally hard to detect otherwise.
American horror story murder house – Constance talks to Adelaide in heaven
This is one of Jessica's most memorable scenes in "American Horror Story: Murder House." She misses Adelaide terribly and with the assistance of Billie Dean Howard, talks to her in heaven. She tells Addie how beautiful she was and how proud she is of her. Addie responds by telling Constance through the medium that she is thankful that Constance didn't get her to the lawn because she didn't want to be with Tate. She is afraid of him because of what she discovered. The scene ends with this revelation.
American Horror Story: Asylum – Sister Jude seduces Monsignor Timothy Howard
This is one of the most memorable scenes in "American Horror Story: Asylum" as Sister Jude has her way with the Monsignor. She's getting what she wants from the ambitious clergyman who promises to deliver her heart's desire as she climbs up the power structure within the church, offering her the role of mother superior when he's arrived. Weirdness, horrible people and sex add up to a powerful horror drama that keeps viewers in a state of disbelief.