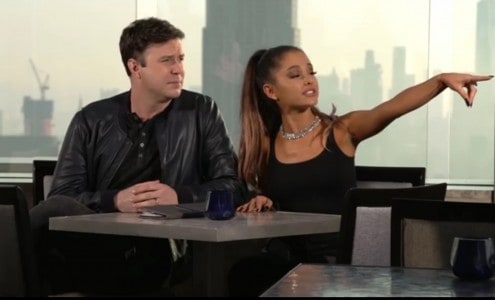 Ariana Grande will be pulling double duty as host and musical guest on Saturday Night Live this weekend. In this series of promos for the episode, cast member Taran Killam joins her from Rockefeller Plaza where he makes the awkward and obvious joke about her last name being a coffee size option at Starbucks. She points out she can even see her house on a very specific cumulus cloud from the Big Apple skyscraper view.
Things really get funny when Taran completely misheard the lyrics of Ariana's single from last year, "Problem". He swears the lyrics are about one less prom production instead of the actual lyrics. The rest of the song according to Killam is all about getting your prom dress, putting on your corsage and spiking the punch bowl.
Watch the promo clip for yourself here:
This won't be Grande's first appearance on SNL. She performed on the famed Studio 8H stage as musical guest on the season 40 premiere in September of 2014 with Chris Pratt as host. She even joined Pratt in a sketch where she was the She-Ra to Pratt's He-Man and Killam's Lion-O toys come to life.
Catch Ariana's debut as host on Saturday night at 11:35 on NBC!