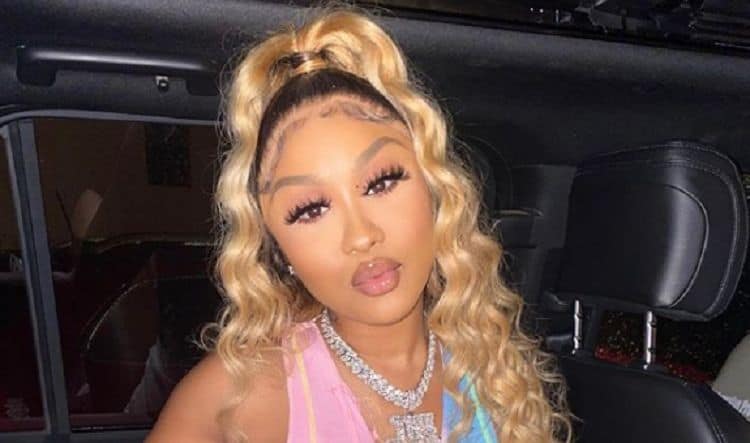 Even if you have no idea what Ariana (better known as Ari) Fletcher is famous for, there's a good chance you've heard her name at least once. The social media influencer who gained popularity for her relationship with rapper, G Herbo, has become a star in her own right. Her Instagram following now consists of nearly 4 million people and they all can't get enough. Her good looks, outgoing personality, and DGAF attitude have earned her a combination of haters and admirers. Although she and G Herbo are no longer together, her current relationship with rapper, Moneybagg Yo, has also gotten her lots of attention. Keep reading for 10 things you didn't know about Ariana Fletcher.
1. Her Social Media Name Is In Honor Of Her Brother
Ari's username on all social media platforms is TheRealKyleSister. She chose this name to pay homage to her late brother, Kyle Jamison, who passed away in 2013. She has never shared what exactly caused her brother's death, but an Instagram post from 2013 suggested he died after dealing with some sort of illness. By including him in all of her social media names, Ari hopes that she will help her brother's name live on forever. A GoFundMe has been created in Kyle's honor with the hopes of starting an education foundation.
2. She's A YouTuber
Instagram is where Ari has gotten her biggest following, but she's also a YouTuber as well. She started her channel in 2016 and has posted videos giving a behind the scenes glimpse into her life. Despite not uploading content consistently, Ari still has 291,000 subscribers and her channel has nearly 7 million views.
3. She's A Brand Ambassador
Ari has been active on social media for several years, and her growth on all platforms has allowed her to get business opportunities. She has teamed up with several brands to advertise their products and currently works with companies like FashionNova and Savage X Fenty.
4. She's Planning On Releasing Merch
Say what you want about Ari, but one thing you could never say is that she isn't about her business. She has used her popularity to help her business ventures and one of the next project she's working on is releasing a line of merchandise. She hasn't shared too much information about what exactly the merch will be, but it's definitely in the works.
5. She Wanted To Work In The Dental Field
Being a social media influencer wasn't always Ari's goal. At one point in time she considered going into a career in the dental field and even took classes to become a dental assistant. However, she quickly realized that a traditional career path simply wasn't for her.
6. She Once Held Up A Flight For Violating The Pet Policy
In the summer of 2017, Ari made headlines after she caused a flight from from Atlanta to be delayed for two hours for four hours because she refused to comply with the airline's pet policy. According to sources, Ari got in an argument with one of the flight attendants when she was asked to put her dog in a carrier after the dog ran loose around the plane.
7. She's Considered Going To Therapy
Life hasn't always been easy for Ari, and a lot of the things she's had to deal with have impacted her in her adult life. In a video on her YouTube channel, she spoke openly about her anger issues and other things she's been trying to overcome. Although she hasn't always been a fan of therapy, she said that she is thinking about going.
8. She Was A Student At NIU
Ari was born and raised in Chicago and attended college at Northern Illinois University in Dekalb, IL. In her YouTube video, she said that she learned about her brother's passing while she was sitting in her dorm room at schoor freshman yearl during he. She ultimately decided to drop out after her first semester.
9. She Was A Cheerleader In High School
Ari may not seem like the athletic type, but she did did participate in an athletic activity back in her high school days. She was a member of her high school's cheerleading team. WhoTimes reports that she went to high school at Chicago Vocational High School.
10. She Contemplated Suicide
After losing her brother, Ari felt like her world was turned upside down. Not only was he her older sibling, but he was also a father figure to her. Shortly after his death, she was heavily considering committing suicide, however, she couldn't think of the method she wanted to use.
Tell us what's wrong with this post? How could we improve it? :)
Let us improve this post!