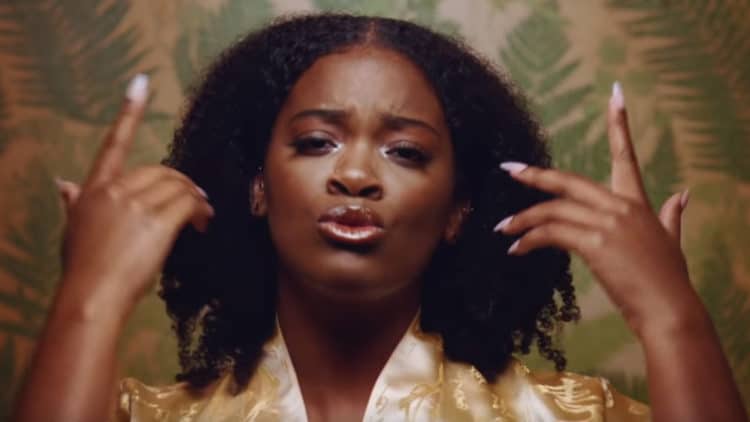 Ari Lennox is a singer and songwriter from Washington D.C. who is making waves in the music industry after releasing two EPs and a studio album. Her debut studio album, 'Shea Butter Baby' reached number seven on the US R&B charts. She began her career in 2013 and signed with J. Cole's record label Dreamville Records in 2016. Lennox was the first woman to sign with this record label. Although she is gradually raising her profile as a performer, there are still facts that people do not know about her. Here are 10 interesting things that you probably didn't know about Ari Lennox.
1. Ari Lennox is Not Her Real Name
Her real name is not Ari Lennox as she was born as Courtney Shanade Salter in Northern Virginia on March 26, 1991. The influence for her choice of stage name was Mary Lennox, who is a character from the film adaptation of 'The Secret Garden'. She has not said why she decided not to use her own name, but the name Ari Lennox is pretty cool.
2. She Suffers from Anxiety
Anxiety is something that Ari has struggled with for many years. In the past, she has also suffered from panic attacks, which she has described as one of the greatest obstacles that she has had to overcome. Although she still suffers from anxiety, she no longer experiences panic attacks and she says that her anxiety is manageable.
3. A Woman Covered Her Ears Listening to Ari Lennox Sing
In an interview with Okay Player, Ari Lennox recounts her first stage performance. She was in third grade and taking part in the school talent show. Lennox performed a rendition of Mariah Carey's 'Against All Odds (Take a Look at Me Now'. She had her eyes closed while she was delivering her performance. When she opened them again, she saw that a woman on the front row was covering her ears. Thankfully, people no longer react this way when she performs.
4. She Stole CDs from Her Dad
Ari Lennox has confessed that she used to steal CDs from her dad. When she was a child, her father collected CDs. Ari knew that he didn't listen to most of the modern music in his collection, so she began to steal the stuff he wasn't listening to for herself. The first CD she stole from him Omarion's '0′ album. She can also remember stealing an album called 'Goodies' by Ciara and Usher's 'Confessions'. Ari explains that she loved music but didn't have the money to buy her own. Sometimes she would ask her mum to buy her a CD, but she didn't always get one as her mum couldn't afford it either.
5. She Dissected Flies as a Child
Ari Lennox told BuzzFeed that the weirdest thing she did as a child was to pull the legs off flies. She liked the feeling of them landing on her skin but, for some reason, she would catch them and take off their legs. She doesn't really know why she did it but says that it relaxed her. Hopefully, this is something that she no longer does as an adult.
6. She Loves Touring
Lennox says that she loves the touring experience. She is getting to visit lots of new places, which is giving her the opportunity to gain new experiences and meet new people. She also loves that no matter where she has been on her tours, she feels like the local people are there to support her and that they are happy she has come to their city.
7. She Hates the Tour Bus
Despite enjoying touring, she hates the tour bus. She has said it is because she is not rich that they have such a terrible tour bus. According to Lennox, it is constantly breaking down and there is a horrible smell coming from the tour bus toilet that is terrifying everyone on the tour. She also says that there was a carbon monoxide scare. An alarm kept going off telling them that there was carbon monoxide, so they thought there was a leak. However, it turns out that the alarm just needed new batteries.
8. Lennox Enjoys Reading
When she has some free time, Lennox enjoys reading. One of the best books she has read is called 'Black Like Me'. It is set in the 1960s and is about a white man pretending he is black. Ari has said that it really made her think about the different experiences of people of different race and color back in the 1960s. It also made her think about how the main character could simply wipe off his black face at the end of the day and return to his life as a white man. As a black woman, Lennox cannot do that, but she is happy with who she is. Another of her favorite books is 'The Alchemist'.
9. She Refuses to Change Herself
Ari Lennox says that a lot of people expect women to change themselves when they are in the music industry, but this is something she refuses to do. She wants to perform with her natural hair, skin, and nose. She finds the fact that she can perform as herself an empowering experience. She hopes to set an example for other women so that they will also be themselves and she wants them to feel empowered by this, just like her.
10. She Was Scared of the Devil as a Child
When she was growing up, Ari Lennox's biggest fear was the devil. She was first told about the devil when she was four and the thought terrified her. Lennox was so scared that she even spoke to her pastor about the devil. The thought of what the devil looked like terrified her the most.