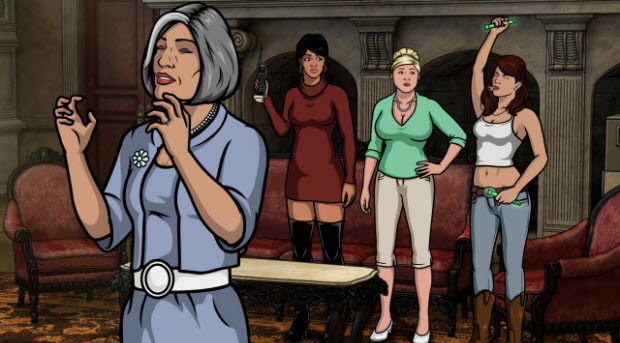 Continuing on from last week's excellent "Smugglers' Blues," "The Rules of Extraction" provides the second half of a good Archer problem: the solution. Having found themselves in a difficult position after being caught smuggling drugs into Columbia, Archer, Cyril and Ray contemplate how they're going to be executed as their executioners drive them to the location…while drinking. The opening gag is definitely one that's way too convenient–the guys are able to escape because their vehicle crashes–but it is caused via a reminder the characters on this show probably shouldn't drink too much, since bad things happen. And the whole elongated crash scene itself, in which Archer can't get a full sentence in without the jungle tearing them apart some more, is both hilarious and contains some of the better effects seen on the series.
Because of its men-on-a-mission structure and use of several recurring gags, "The Rules of Extraction" completes "Smugglers' Blues" in the way I was hoping it would–it functions exactly like a classic Archer multi-episode arc. Now more than ever, it seems like Adam Reed found the perfect stride in making Archer Vice feel fresh but similar enough to Archer in these scripts so that fans would have very little to nag about. "Phrasing" is really trying to make a comeback, but there are two other Archer callbacks that work much better in this episode. The first is Archer's paralytic fear of alligators, which he makes sure to explain through the fact that they've remained genetically unchanged longer than any species–the perfect killing machine. It takes alligators to actually pop up and tear apart their…cargo…until Cyril starts panicking in the way only Cyril can (I don't know why I haven't mentioned it in these reviews yet, but for fans of Archer and especially fans of Chris Parnell, you're much better off switching over to Rick and Morty on Adult Swim after Archer airs rather than sticking around on FX for the mostly disappointing Chozen).
"The Rules of Extractions" actually has all three of its central characters in top form, relating to the other great recurring gag/callback. After Ray is pulled out of the crash, he is paralyzed again (of course). This really ought not to be as funny as it is considering what the guy has gone through over the course of the many seasons of Archer, but it just is. In a great stroke of reversal of expectations, though, after Archer carries Ray around everywhere and asks him to teach Archer to fly a plane, Ray stands up and walks over to the cockpit. Again, this serves the dual function of being great visual comedy and also being a way for the show to say something somewhat real, in this case that Ray is capable of autonomy and manipulating people around him who doubt his abilities. It upsets Cyril, but Archer is understandably impressed and probably wondering why he hadn't done it himself.
The self-extraction mission is really the focus in this episode, as the other characters at the Tunt mansion are mainly just there for some comic reprieve as they try to get Malory to relax a little bit (no Woodhouse, sadly). What they have to look forward to (I guess?) is that all the drugs they thought they had lost to poor handling of dealings and to Pam's insatiable appetite, will be replaced by everything that's in the plane the guys are flying back from Columbia. So, expect to a see a bunch of new potential buyers and many, many more bad decisions.
[Photo via FX]