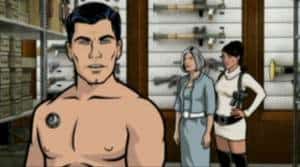 Those revenge/rampage/man-with-nothing-to-lose thrillers like Deathwish, Get Carter and Falling Down have always been wildly entertaining to me. They're not the most relatable characters but it's in our nature to root for the underdog. I also always kind of hoped the man who ran into my work and pepper sprayed me a few months ago would cross paths with a super pissed off vigilante. Oh well.
In this week's Archer, Archer finds that the chemotherapy drugs he's been taking are counterfeit and goes on a rampage, looking for the man responsible. Meanwhile, Cyril discovers a terrifying (though, not so surprising if you think about it) secret about Dr. Krieger.
This was certainly the most violent episode of Archer in recent memory. He plays a deadly game of "Family Feud" with Irish mobsters, who pay dearly with their kneecaps. He also, uh, inserts a grenade into another gangster a la Denzel Washington in Man on Fire. The climax, though, is a pitch-perfect parody of a Magnum P.I. scene in which Tom Selleck and his beautiful mustache kill an unarmed villain.
"Ivan?"
"Yes?"
"Did you see the sunrise this morning?"
"Yes, why?"
POW!
That happened. Having the entire rampage caught on tape by Lana, Archer calls his "movie" Terms of Enrampagement, but Cyril suggests Magnum P.U. Not only was this a dig at Archer's final kill, but that final kill was basically a carbon copy of a scene from Magnum P.I. You see, Seth Macfarlane? That's how you do pop culture references.
Another brilliantly crafted reference was the revelation that Dr. Krieger was one of the boys from Brazil. The Boys from Brazil, in case you're unfamiliar, is a 1978 film about a man tracking down a scientist who is attempting to clone Hitler. Not only was that real in the Archer-verse, but Krieger was one of those clones. Everything from Krieger accidentally referring to Nazi Germany as "we" to Pam calling Krieger names like "Clone Wars" was fantastic.
I think it's safe to say that Archer is the best written comedies on cable, if not on all of television. And it's a cartoon. Who'd have thought?
Tell us what's wrong with this post? How could we improve it? :)
Let us improve this post!