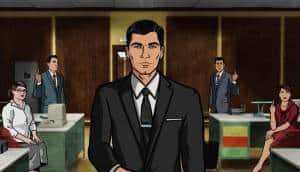 Poor Cyril. He was always a disappointment to his father, to his ex-girlfriend Lana, to everyone else at ISIS and, most of all, to himself.
In an effort to prove to the office drones and field agents that he can perform under pressure, ISIS comptroller Cyril Figgis helps George Spelvin, a computer security expert, upload a seemingly harmless virus to the ISIS mainframe just so he can disable it. Shockingly enough, things don't work out exactly how Cyril had planned.
Tonight's Archer was another character-centric episode, whereas the first season was mostly Archer being the star and the drones being the supporting cast. The main thing we learn tonight is just how easy of a target Cyril is. He's that friend that everyone saves their best jabs for, despite sort of liking him.
Speaking of jabs, the recurring joke of nobody being clever enough for a fast comeback or insult shot to the top of my list of best recurring Archer jokes. When asked how many rounds Cyril has fired, Archer responds with, "Who do I look like? Count …Bullets …ula? Like Count Dracula? That wasn't good. Come back to me." Gold.
One thing I've really grown to appreciate about the show is the attention to detail. Each frame of every episode is packed with life. The Mad Men-esque ISIS office actually looks like a real place, which is the opposite of how locations in many other animated series look.
Unlike Cyril, the episode was not a disappointment. Archer is certainly giving the rest of FX's comedy lineup a run for their money. If you're not watching Archer, you're screwing up big time.