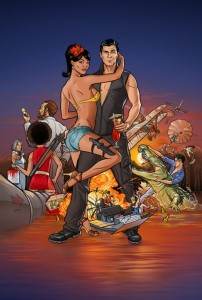 This is the first episode of Archer, I think ever, that doesn't feature some sort of ISIS mission. I was going to say "operation," but there is most definitely an operation in this week's episode. Just not the kind you normally see in a spy show.
A breast cancer scare has the entire ISIS office on edge. Mallory's results come back negative, but the doctor discovers breast cancer in Archer. Archer exploits the kindness of his friends and makes peace with them before he goes under the knife.
This episode was very entertaining and certainly the most personal of the season. The entire episode takes place in either the ISIS headquarters, Archer's apartment or the hospital. Archer does enjoy some time in Las Vegas with Woodhouse's brother, Dicky, via a brief still frame montage.
Archer is able to manipulate his friends into doing things for him, even having Lana give him sympathy sex, by simply asking, "Did I mention I have cancer?" Not that we didn't already know Archer was a prick, but his awfulness really shines through in this episode.
Not only was Archer's awfulness expanded upon, but also was Carol/Cheryl's craziness. She describes her weekend to Mallory in the opening scene. "Saturday, I watched a building burn down," she whispers.
Overall, "Stage Two" was perfectly adequate. There weren't as many knee-slapping moments as in previous episodes, but the episode was definitely not bad. Season two of Archer has been just as good, if not better, than the first. It's nearing the top of the list of shows I'll swear by. There must be something wrong with people who don't like this show at least a little bit.