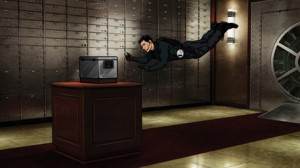 James Bond never had to take a paternity test, did he? I imagine he has at least a few little Bonds running about all over the world. Here's an even less likely question: Did James Bond ever trick an escort into thinking he was wearing protection, when, in reality, the "condom wrapper" was just a candy bar wrapper? No, probably not.
In tonight's Archer, Trinette (Archer's favorite call girl) surprises the ISIS staff with a baby which is supposedly Archer's. Mallory, hoping to avoid the embarrassment of an illegitimate child in the family, tasks Archer with sabotaging the test process by swapping his liter of blood (yes, a full liter) with a liter of Cyril's blood.
A bulk of the episode takes place in Archer's apartment during a baby shower. The characters take a front seat for this one. For instance, we learn that Woodhouse (Archer's elderly and abused butler) is a raging heroin addict and Lana and Mallory spend some time going through Archer's baby things. His first lacrosse cleats and his first smoking jacket, among other things.
Archer's bread and butter is joke repetition and callbacks to old jokes, but one new thing we were treated to was an actual sweet moment in which Mallory has a change of heart about her possible grandchild. You can see that she actually does have a heart under her cold, selfish, mean and manipulative outer shell.
As much as I like the ISIS/ODIN feud, I'm hoping that ODIN doesn't become a fixture. After all, ODIN is based in Paris and ISIS is based in the U.S. Seems kind of silly that ODIN would constantly be meddling in ISIS affairs, especially silly, trivial things like paternity tests.
Here I am encouraging logic for a show that featured a "candy bar wrapper instead of a condom" joke. I take that back, Archer. You're doing just fine.