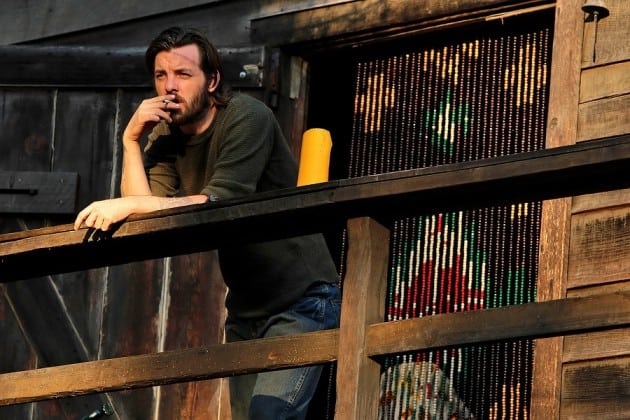 Even though Aquarius has been moved to Saturdays, as I'm sure you all know by now, it has already been renewed for a second season. With that said, we're almost at the end of the show's first season now, so let's take a look at what happened in this week's episode, "Your Mother Should Know." As per usual, this Aquarius review will be kept fairly spoiler-lite.
The episode opens with Sam confronting his father and Walt about letting him help Walt with his situation in the best way possible. It's nice that the storyline with Walt seems to be coming back into play in a large way after hovering below the radar for so long this season, but I like how mysterious everything has been kept over most of the show's life so far. I do really love, also, how much of Sam's family life we're continuing to get on Aquarius, and "Your Mother Should Know" gives us the most of this that we've had so far.
On the other side of the show's spectrum, Charlie is surprised at the Spiral Staircase by the sudden appearance of his mother. Tensions are incredibly high between mother and son, and it's cool to get insight into Manson's past life after only subtle revelations up until now. It's also very revealing to see how his mother reacts to the girls in the "family" and vice versa.
The case in "Your Mother Should Know" once again brings us the return of Gaius Charles's Bunchy. I know I talk about this fact every single time that the character has appeared on Aquarius, but I absolutely love how the show is weaving this historical figure into the plot of the fictional show. I always love getting more of Gaius Charles in any context, too, so that's just an added bonus. Charles really seems to get the character, and his performance in every episode in which he appears exhibits this to perfection. David Duchovny and Charles also express a great chemistry whenever they interact, so it's really hard to find anything wrong with these storylines.
This episode also delves more deeply into Brian Shafe's storyline with Guapo. While I would typically say that splitting a character off so heavily into his own storyline this late into the season would detract from the show as a whole, Aquarius manages to do it without ever falling into that territory. The show's strength comes in managing to use so many singular storylines to flesh out what could have been a superficial overall arc, and it's great that we get the chance to experience it live.
Aquarius has always had its flaws, but "Your Mother Should Know" is yet another solid entry into a very solid series. With just a few small improvements, I think that Aquarius could easily become known as one of the best period pieces in modern television.
Are you still tuning into Aquarius after its Saturday move? What do you think about the show? Let us know in the comments below!
[Photo credit: Vivian Zink/NBC]
Tell us what's wrong with this post? How could we improve it? :)
Let us improve this post!