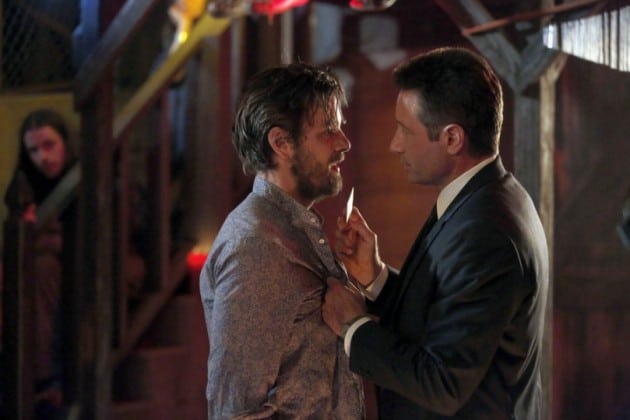 Because NBC released the full season of "Aquarius" on-demand after the premiere, I'll be reviewing all thirteen episodes ahead of when they air on television in order to both help binge-watchers and keep television viewers interested. However, I'll try to limit spoilers a little bit more than I typically would.
At this point in Aquarius, the premise is set, and everything seems to be working really well. Let's see how things shape up in the show's fourth episode, "Home s Where You're Happy."
In the beginning, Sam and Brian continue working on the murder case introduced in the previous episode. Their relationship is really beginning to work well, and the two of them display even more on-screen chemistry than we see between Shafe and Charmain. We're also beginning to realize at this point in the show that Hodiak, while using some unconventional methods by today's standards, is very good at his job. It's no surprise that he's so well-respected on the force, and David Duchovny embodies the role wonderfully. The small teases that we get in each episode of Hodiak's backstory are also doing a great job at progressing his character, as is his burgeoning relationship with Grace Karn.
Early in "Home is Where You're Happy," we're treated to the first meeting between Hodiak and Charles Manson. If only because of the talent of the actors, I've really been looking forward to this initial interaction, and while short, it managed to not disappoint. Brian took on the bulk of the Manson/Karn investigation in the previous episode, and it's nice to get Hodiak back in the mix so prominently (even though, as I've said before, I really like the procedural elements we're getting through other cases).
We also get a lot of Sam trying to find his son and the events concerning that, and it's interesting that the show manages to not feel overstuffed even with so many different storylines to shuffle. Aquarius definitely feels full, but it's definitely in a good way. There's potential, sure, for so many happenings to end up getting lost in the mix later on, but, for now at least, the show is handling everything very well.
I've talked some about the procedural elements that Aquarius has gradually added since the second episode, and the secondary murder case has a more prominent role in "Home Is Where You're Happy" than in any other episode so far; it made for a very interesting change of pace. The storyline with Charlie and Emma actually takes a backseat here instead of its usual prominence (or at least equal focus), and that was very welcome considering how uninteresting many of the scenes with the commune tend to be. We also got another look at Brian Shafe's homelife in this episode, and I just continue to be impressed with the level of character progression on this show.
Overall, "Home Is Where You're Happy" was another very solid entry in Aquarius, and I'm so very interested in seeing where this series goes toward the end. NBC hasn't yet announced whether or not they'll reveal the numbers for how many people are binge-watching the show, but I'm hopeful that we continue to get some more of Aquarius in the future.
What do you think about Aquarius so far? Has the show hooked you yet, or are you still up in the air? Let us know your thoughts down below!
[Photo via NBC]
Tell us what's wrong with this post? How could we improve it? :)
Let us improve this post!