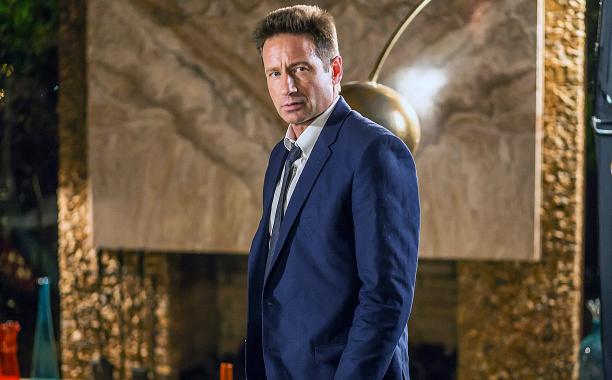 Because NBC released the full season of "Aquarius" on-demand after the premiere, I'll be reviewing all thirteen episodes ahead of when they air on television in order to both help binge-watchers and keep television viewers interested. However, I'll try to limit spoilers a little bit more than I typically would.
Aside from the quality of the absolutely superb acting, the first four episodes of NBC's Aquarius were firmly solid. They were nothing spectacular, but the series has definitely been an entertaining experiment to watch. Let's see how this experiment continues with the fifth episode, "A Change Is Gonna Come."
The episode opens with Charlie and some of his girls trying to figure everything out in the aftermath of Emma's return home. At the same time, the Karns are dealing with their new life of lies while Sam works out his budding relationship with Grace. The main characters of the show all seem to be entering into a time in which they'll be trying to deceive everyone else in their lives, and it introduces an element of drama that should, hopefully, lead to a good climax as things most-assuredly blow up.
"A Change Is Gonna Come" features the return of guest star Gaius Charles's Bunchy Carter, now a full-fledged member of the Black Panthers. While there's no way of knowing, at this point in the season, how things will play out, Carter himself is a nonfictional character whose role in the Black Panthers should play a big part in the events of the series now that he is becoming so intertwined with Sam Hodiak. No matter what, though, Charles brings a really great charisma to the character (and a very different kind of charisma than he exhibited on Friday Night Lights), and it's great to see him take on such a strong role.
Going along with Bunchy's return, the case in this episode deals with a death that brings the Black Panthers into the fold in a very big way, and it's becoming clearer and clearer that Aquarius really is going to take on the backdrop of the 1960s culture in every single way. We've gotten looks at the role of women in this ever-changing world in previous episodes, and while we've gotten glimpses at racial tensions already, this is the first episode in which the civil rights movement has played a really big role. I mentioned in my review of the premiere that it's important that Aquarius not fall into the trap of becoming a parody of itself, and the care that has gone into the show's background so far gives me hope that that isn't going to happen.
In "A Change Is Gonna Come," Brian spends time investigating undercover, and it's really cool getting to see him fully embracing the false persona that he's crafted for himself. As great as it's been seeing Shafe interacting with Hodiak and Tully, showing his undercover work this deeply shines a light on an aspect that's really fun watching play out. We also get some good material in this episode from Ambyr Childers's Susan Atkins, who, as those versed in history are aware, is eventually convicted for her participation in the Manson family murders. Aquarius has been doing a really great job weaving historical figures into a world populated by originals, and it gives audiences a very unique experience that isn't really present in many shows on television.
We are also finally given some more information on Sam's son Walt as that particular subplot progresses in a way that I don't think anyone expected when it was first introduced. I don't want to spoil the reveals here, but this side-story manages to tie in a historical element from an unfortunate time in America's history that adds a lot to the world that's being built.
The ending of "A Change Is Gonna Come" involves a nighttime fight scene between Sam and Charlie that I've been waiting for since the first episode of the show. Without going into too much detail, the scene is very well done and should prove to be one of the defining moments of the first season.
Overall, Aquarius has been a very decent show and not much more. This may sound like a criticism, but it really isn't. The show hasn't been anything spectacular, but I still really enjoy watching every single episode and am really looking forward to seeing how the season plays out. No matter what, though, the quality of the acting is a clear win for the series, and I'm incredibly happy to have gotten the chance, no matter what, to see Gethin Anthony's portrayal of a young Charles Manson in his "prime." All that said, though, "A Change Is Gonna Come" was a great episode that should propel the show forward as we continue on.
[Photo via NBC]