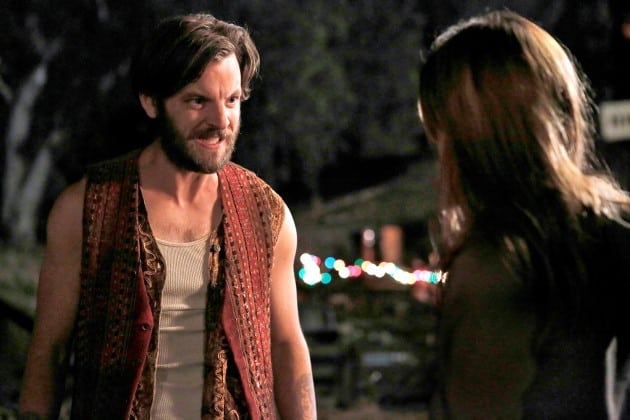 After cancellation worries, a surprise renewal, and a scheduling change, we've finally made it the long, hard way to the penultimate episode of the first season of NBC's Aquarius. With not much time left until the yearlong wait, let's see how things played out in "(Please Let Me Love You And) It Won't Be Wrong."
As usual with Aquarius, this review will be relatively spoiler-lite and instead focus on larger themes.
The episode opens with our favorite detective, Sam, finding a rosary in his drawer as he gets ready for work. Sam's faith has been one of the most subtle subplots of Aquarius, and I really like the restraint that the writers have shown when doling out this information. I'm very interested in seeing if the events of this first year bring that subplot more to the forefront as we move to the end of the season and into the next one.
At the Spiral Staircase, the producer from a few episodes back manages to convince Charlie to let him make a movie about the commune and the people there. I'm not well-versed in the real life of Charles Manson, so I really can't tell if this event is fictional or historical, but I do think that it's an interesting aspect for the show to include, at the very least. It speaks well to the strength of Aquarius as a show that the audience finds it really hard to tell where this line between fiction and reality falls, and I don't think it at all takes away from the stories of the true victims of Manson's life. This film storyline also gave us a very close look at the backstories of a lot of the girls that live with Charlie, and that's a fascinating insight that we haven't at all gotten yet from anyone other than Emma. As negative as I often am about the scenes that take place at the Spiral Staircase on this show, I really like the way it was incorporated in this episode.
One of the big plots in "(Please Let Me Love You And) It Won't Be Wrong" is Brian Shafe's investigation into possible connections between seemingly unrelated home invasion cases. Maybe it's because I'm a fan of crime stories, or maybe it's because I like the revival of dormant mysteries in television, but I really enjoyed the insight into police investigations that we got in this episode. It isn't radically different from what we've gotten throughout the season, but it's different enough that it allows us to get a great performance from Grey Damon.
The other major subplot in this episode deals with Walt's information. Sam continues trying to help him, but it's taking a toll on both Sam and his family. The scenes immediately following Sam's conversation with his son are visually striking, and Duchovny continues to impress in the way that we've all become accustomed to. To save his son, Sam enters into an incredibly interesting alliance, and it's completely believable because of the world Aquarius has built.
Overall, "(Please Let Me Love You And) It Won't Be Wrong" is one of the strongest episodes of this first season of Aquarius. Every aspect of the episode hit the mark here, and it really justifies the decision that every current audience member has made to continue on with the show this long.
What did you think of "(Please Let Me Love You And) It Won't Be Wrong?" What do you think will happen next week in the season finale? Let us know down below!
[Photo credit: Vivian Zink/NBC]
Tell us what's wrong with this post? How could we improve it? :)
Let us improve this post!