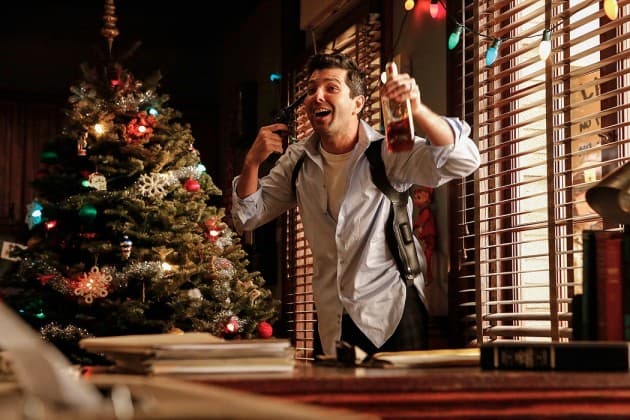 We've had a string of great episodes lately on Aquarius, so let's see how things continue in the first season's tenth episode, "It's Alright Ma (I'm Only Bleeding)." As with my previous reviews of Aquarius, I'll keep this review relatively spoiler-lite.
The episode opens with Sam feeling the effects of the LSD that Charlie spiked his margarita with at the end of the previous episode, "Why?" The effects of this visually are presented in a really cool way on the show, and it also leads to some good backstory for Hodiak that shows the effect that his time fighting in World War II had on him. The show has been delightfully stingy with the backstories of its main characters, and I really like the way that it continues to drip out small details with unusual methods.
Over at the Spiral Staircase, Emma is back and has a friend in tow. It turns out that Emma had a plan to help Manson out, and he is as appreciative and possessive as one might expect. As I've mentioned plenty of times before, the scenes that take place at the commune, as important as they may be, tend to be the most boring on Aquarius, but tying them in with the main arc in a stronger way helps elevate them a bit.
While Brian continues working leads concerning Guapo and Manson's henchman, Sam helps out one of his coworkers after information about Detective Joe's heritage comes to light. Hodiak's storyline in "It's Alright Ma (I'm Only Bleeding)" gives us another look at racial tensions in the 1960s. We've made it through ten episodes now, and none of the material yet has ventured into self-parody, so I'm extremely happy that we continue to get glimpses into history through Aquarius's writing. Mad Men has become the standard for how we view period pieces on modern television, but Aquarius has really done an incredible job at continuing this tradition.
It's hard for me to say specifically what my favorite aspect of Aquarius is because no element would work without others. As great as the cast is, and it is truly great, it wouldn't work properly without the high caliber of material that the actors get to work with. Along the same lines, the writing would be nothing without the cast. It's rare on television that we see something that just seems to get everything right, but I really think that we're managing exactly that with Aquarius. Is it perfect? Not by a long shot. Plenty of scenes on the show seem to run too long, prominence is given to some characters that don't necessarily need it, and the actual material that's given to Manson and his followers doesn't always live up to its potential. But perfection doesn't really matter with Aquarius because it manages to gloss over its flaws by delivering exactly what it needs to. "It's Alright Ma (I'm Only Bleeding)" is neither the best nor the worst episode of Aquarius so far, but it was exactly what it needed to be, and that's something that's very commendable in television today.
What are you hoping happens in the final episodes of this season of Aquarius? Let us know in the comments down below!
[Photo credit: Vivian Zink/NBC]