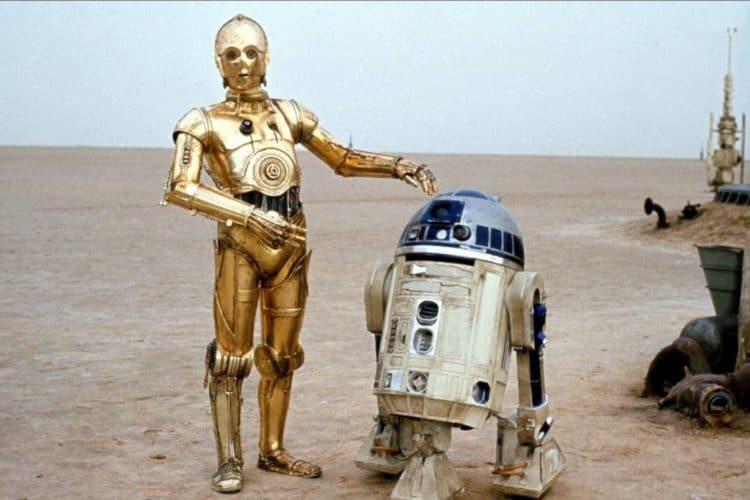 There are some stories that just couldn't do without certain characters as they'd feel incomplete somehow, as though an integral part of the tale was missing. During the long wait following the release of the Rise of Skywalker trailer a lot of people were worrying that they might have to endure the 'death' of C-3PO when it was heard that he was 'taking one last look at my friends', as the line goes. Considering that the golden protocol droid has been present in every Star Wars movie in the Skywalker saga it was thought to be sad days coming since a Star Wars without C-3PO might be one that would be way too different to contemplate. After all we've had to let go of Han, Luke, and Leia all in turn, even if Harrison Ford was happy to finally see an ending to his character. As Christian Bone of We Got This Covered reminds us though the golden droid was never in danger no matter what we thought. There might be a day in the far future when the character will be retired, but as one of the old-timers of the saga it's obvious that there's still plenty of use for him and enough people that happen to care about him to keep Threepio around. To think that people have found such a great deal of affection for the droid isn't too hard since he's been a very big fixture in the story and, thanks to the prequels, has been there since the Skywalker saga essentially began.
Seeing as how C-3PO and R2-D2 actually ended up getting their own comic book and animated TV show it's definitely safe to say that they've been a big part of Star Wars for a long time now. Heck, they're the two major individuals that help open A New Hope since Darth Vader and Princess Leia aren't given that much screen time until later, after the droids have been given a lot of leeway to push the story forward. To think that they'd be taken out of the story anytime soon is kind of erroneous in a big way since doing so would likely anger a lot of Star Wars fans in the long run even worse than The Last Jedi managed to do, and that's saying something considering how many people spoke up following the second movie in the current trilogy. Anthony Daniels is definitely on board to keep the golden droid around, but it's a wonder as to where he's going to show up and how his story will continue once Star Wars makes it back to theaters, as we're not bound to see another movie until late 2021 moving into 2022. Lucas Sullivan of Games Radar has more to say on this.
In a way the two droids are great for the story since they're constantly around, but they fade into the background readily when such a thing is needed, though people rarely forget that they're still there. They've been crucial to the story in a few ways, but their support has always been the biggest boon they've granted since they've managed to help the heroes out in several ways, from hacking into the Imperial database to acting as a copilot to two different Skywalker's and getting the group out of a tough spot with the ewoks in Return of the Jedi. For all his fussiness and slightly irritating need for decorum, Threepio has still been a valuable ally since his fluency in so many languages has been a lifesaver as well as a very important plot device. Why anyone would instill a block in his memory to keep him from translating ancient Sith however is still a mystery, though it could be that it's explained in the book, as a few things have been said to be so far. Like him or not, Threepio has definitely been one of the more interesting fixtures of the Star Wars franchise, and to be fair when it comes to his overall impact he's been rather popular when it comes to the story and to the memories that we hold as kids. Anyone remember having a golden C-3PO when they were a kid? Next to Luke Skywalker in his black outfit, Threepio was THE toy to have since he was something of a status symbol among some kids.
I'm betting that had anyone back in the day stated that Threepio would come to be so vital to the Rebels and the franchise itself a lot of folks would have laughed and said this was ridiculous. Luke Skywalker, Han Solo, Princess Leia, Darth Vader, and a few others were the main characters after all, they were in the thick of all the action, and thus they were the characters that received most of the attention. But when you look back at it now, it's easy to see that C-3PO and R2-D2 cemented their spots in the franchise at the same time and have earned the right to keep going. Alex Abad-Santos of Vox has more to say on the subject.