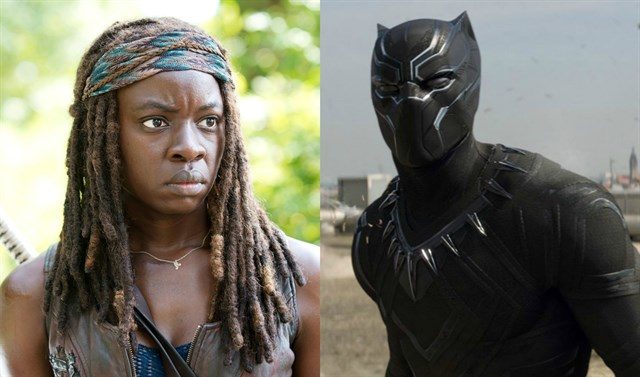 It is natural to assume that someone with world-class talent would be famous for those abilities. However, some people have such a variety of talents that these talents can fly under the radar. Such is arguably the case with the incredibly gifted actor and playwright Danai Gurira. While she is a highly acclaimed writer, she is likely known for her role as Michonne on The Walking Dead. She is also set to appear in the upcoming Marvel picture Black Panther.
Gurira has made a name for herself with a long and distinguished career in film, television, and theater. However, many fans know her only as a popular character on The Walking Dead. Her personal life and background are arguably just as interesting as the characters she plays on screen. Here are five of the most interesting facts about this amazing talent.
5. She was born in Iowa
While Gurira was born in the US, she was raised in Zimbabwe. She moved from Iowa to Zimbabwe with her parents at age 5, and the country has since become an important part of who she is. In fact, she has written a trilogy of plays about the female perspective of growing up in Zimbabwe.
4. She is highly educated
In addition to her considerable gifts as an actor and a writer, Gurira also has the ability to thrive in academics. She holds a degree in Social Psychology from Macalester College in Minnesota. In addition, she graduated from the Tisch School of the Arts in New York with a Masters in Acting. In 2011, she earned the Macalester College Young Alumni Award. The fact that she holds two degrees in addition to her successful career in entertainment is highly impressive and indicative of her work ethic.
3. She is multilingual
With her early years spent in the US and much of her youth spent in Zimbabwe, one might expect that Gurira knows more than one language. However, fans will be impressed to learn that she can actually speak four distinct languages. These include: French, Shona, Xhosa, and English. It is almost hard to believe that a single individual can be gifted as an actor, writer, academic, and linguist. However, it appears that there is little Gurira cannot accomplish if she has the desire.
2. She has won numerous awards
Gurira has seen tremendous success in both acting and writing. Her performances on The Walking Dead, for example, have earned her a Satellite Award and Saturn Award. As a writer, she has received many notable awards and nominations. These include a Drama Desk Award and a nomination for the Best Play Tony. It is clear that whatever Gurira decides to devote herself to, she does exceptionally well.
1. She has done a great deal of charity work
Despite her tremendous success as an actor and playwright, Gurira still finds the time to help those in need. Over the years, she has both founded and volunteered in organizations which offer services and support to those in need. This includes Almasi Arts Inc., which she co-founded in 2011 in order to promote arts education in Zimbabwe. She also founded Love Our Girls, a non-profit which targets the issues faced by women. She has even used her status to fight AIDS by partnering with Johnson & Johnson.
Final Thoughts
Gurira is an incredibly gifted, hard working, and generous individual. She has used her unique perspective of the world to create plays which broaden how people perceive others. In addition, she has been widely celebrated for both her acting and writing. Her most impressive accomplishment, however, may be the impact that she has had on many lives through her charity work. Gurira is exactly the type of person that deserves the fame and fortune she now enjoys.