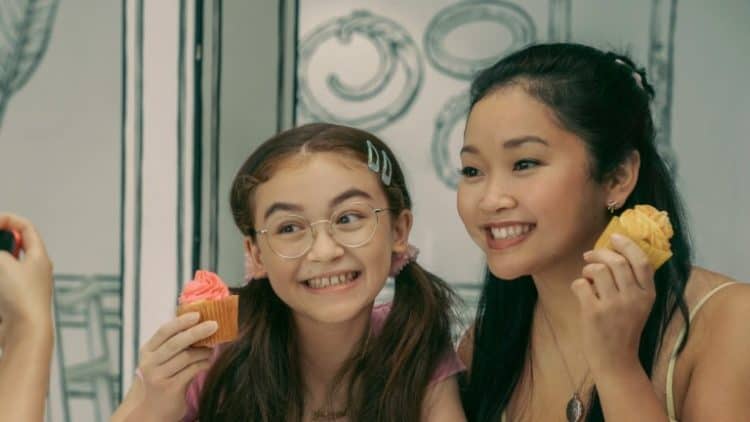 Growing up in the entertainment industry isn't an easy thing to do, but so far Anna Cathcart has managed to avoid the pitfalls that usually hinder other young stars. Now a teenager, Anna has already had a career that lots of actors can only imagine. She has built a fan base that includes people all over the world and her acting resume has more than a dozen credits. Anna is best known for her role in the To All the Boys I've Loved Before film series as well as shows such as OddTube and Zoe Valentine. Anna is also currently working on a TV movie called Spin that is set to be released on Disney some time in 2021. Keep reading for 10 things you didn't know about Anna Cathcart.
1. She Has Never Written A Love Letter
Unlike her character in To All the Boys I've Loved Before, Anna doesn't have any experience in the note writing department. She told Fangirlish, "I've never written a love letter. I've never sent a love letter, that's for sure. I'm not as old as Kitty and I wouldn't do something like that, for sure."
2. She Is A Huge Disney Fan
Like lots of other young people, Anna grew up watching Disney. However, the things she saw did more than keep her entertained, they also inspired her to get into acting. In fact, most of what she learned from acting she learned from watching Disney. It doesn't appear that she's had any formal acting training. Needless to say, getting the chance to work on a project with Disney was a dream come true for Anna.
3. She Is Allergic To Pineapple
Food allergies are nothing to play with and Anna knows this from personal experience. In a YouTube video with YSBNow, Anna revealed that she is allergic to pineapple. She didn't go into detail about the severity of the allergy but she made it clear that she stays far away from the fruit.
4. She Loves Spending Time Outdoors
Nothing beats the feeling of getting out and breathing in some fresh and and Anna would probably agree. Anna enjoys being outdoors and enjoying the beauty of nature. Whether she's in her hometown or in a completely different country, she loves to get outside and explore her surroundings. Anna also likes hanging out by the water.
5. She Attends Public High School
There are a lot of things about Anna's life that are very different from other kids her age. One thing that isn't though, is the fact that she attends 'regular' school. Instead of being homeschooled like many other young actors, Anna has managed to attend a local public school while still filming.
6. She Is A Dog Lover
Sorry to all of the cat people out there, but Anna has made it very clear which side she stands on. Anna is a diehard dog lover and she has a dog of her own named Mia. She even gets excited when she sees dogs walking down the street. Somewhat surprisingly, she hasn't created an Instagram profile for her dog.
7. She Doesn't Like Sharing Food
Anyone who ever goes out to Anna won't have to worry about her picking food off of their plate, and they better not touch hers either. While talking to YSBNow, Anna shared that she's a bit of a germaphobe, especially when it comes to food. Sharing food is simply out of the question for her.
8. She Is Passionate About LGBTQ Rights
Anna may be young, but she's already come to understand the importance of standing up for what you believe in. In a series of questions with Refinery 29, Anna shared that LGBTQ rights is the cause that she's most passionate about. As she gets older and continues in her career, it'll be interesting to see which organizations and events she decides to align herself with.
9. She Doesn't Like Scary Movies
As of now, Anna hasn't done anything in the horror genre and there's a good chance that day might not ever come. While she acknowledges that scary movies are cool, she simply can't stand to watch them. Sometimes, even looking at a poster for a scary movie is enough to frak her out.
10. She Is A Brand Ambassador
The success Anna has had on the screen has also turned her into a social media influencer. She currently has more than 3 million followers on Instagram and she has become an attractive person for companies to partner with to help market their products. Anna is a brand ambassador for Fujifilm Instax.
Tell us what's wrong with this post? How could we improve it? :)
Let us improve this post!