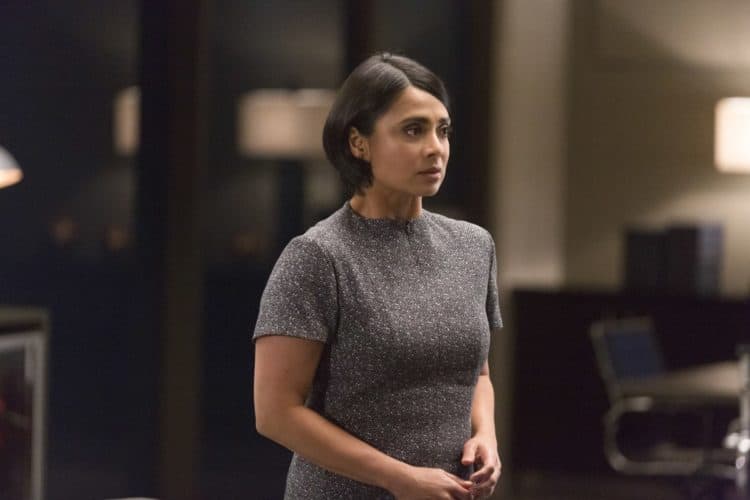 The odds of making it into the entertainment industry are very slim, but Anjali hasn't just gotten her foot in the door – she's kicked it all the way down. She started her on screen career nearly 20 years ago, and she's managed to find consistent work ever since. She gained the most attention for her role as Djaq in the series Robin Hood and she's also well-known for her role as Selena in Supergirl. Although she has spent much of her career doing TV roles, she appeared in the 2020 film Brahms: The Boy II. Regardless of the project she's working on Anjali's presence is always an asset. Keep reading for 10 things you didn't know about Anjali Jay.
1. She Comes From A Creative Family
There are lots of creative people who struggle with trying to find acceptance from loved ones who prefer a more traditional path. Luckily for Anjali that was something she never had to experience. According to the bio on her website, she was raised by an "unconventional family of professional creatives who nurtured my fascination with the arts." Having her creative energy fostered from an early age definitely gave her the freedom to chase her dreams without hesitation.
2. She Comes From A Diverse Background
Anjali was born and raised in India but she comes from a diverse background and considers herself Indian, British, and Canadian. She is very proud of all of the cultures that have blended together to make her who she is and each of them has a special place in her heart. We weren't able to find any information on what country she's living in at the moment.
3. She Is A Writer
Anjali's work as an actor isn't the only thing she's contributed to the world of entertainment. She's also a very talented writer. Although she doesn't have any screenwriting credits at the moment, her bio states that she is currently in the creative writing MFA program at the University of British Columbia.
4. She Is Not Really Into Social Media
At this point, having a strong social media presence is almost a part of the job for actors. Anjali, however, hasn't bought into any of the hype. So if you're a fan of hers, you won't be able to find much about her on social media. She doesn't have a verified account on any social media platforms. Her lack of online presence hasn't seemed to hurt her career.
5. She Has Radio Experience
Multi-talented is probably one of the best words to describe Anjali. Outside of live action work, Anjali has also done some voice acting the radio world. She has appeared on two radio series: The Making of a Marchioness and Goan Flame. Her last time doing radio was 2007.
6. She Is A Dancer
Before Anjali decided to get into acting she was actually a dancer. She spent several years studying Bharatanatyam (classical Indian dance) and contemporary dance and was also a choreographer. She has a master of arts degree in dance theater from the Laban Centre. It's unclear whether or not she's still involved in any kind of dancing.
7. She Is A Private Person
Most people who have spent as much time in the business as Anjali has have become open books. That hasn't been the case with her, however. Anjali has always been a private person. In addition to not being on social media, she also doesn't do very many interviews.
8. She Has Lots Of Theater Experience
Anjali has less than two dozen on screen credits, but that doesn't mean she doesn't have a lot of experience. She has spent a good portion of her career in theater. Most notably she has performed with the Royal Shakespeare Company where she was a cast member in Midnight's Children.
9. She Is Married
While it's true that Anjali is a private person, one thing we do know about her is that she has been happily married since 1998. That being said, there isn't much information out there on her husband Rusty which makes it clear that he's also a very private person. There's no information on whether or not the couple has any children.
10. She Is Well Educated
Anjali is certainly overflowing with natural talent, but she has put in lots of hard work  in order to help herself reach her full potential. Education has played an important role in helping her along the way. In addition to her master's degree in dance theater and the creative writing MFA she's working on, Anjali also has a bachelor's degree from Mount Carmel College in India.